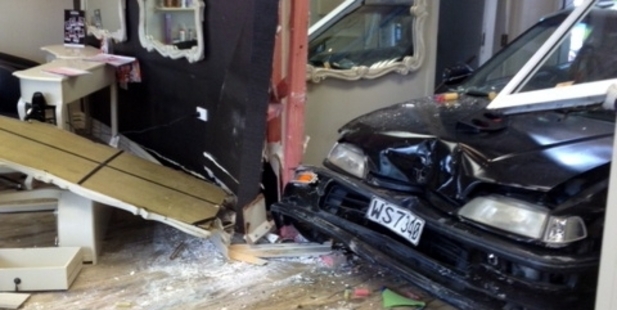 A runaway car narrowly avoided a baby after smashing into a Havelock North hairdressing salon on Saturday.
Ashlee Wilson was working in Sujus juice bar on Te Mata Rd when she heard a car tyres squealing shortly after noon.
"We thought it was a boy racer doing a skid in the road," she said.
"We watched her as she went across the courtyard and flew down the stairs - it all just happened so fast."
Ms Wilson said it appeared the woman driver had intended to reverse out of a car park before losing control, swiftly forward and "taking out" a rubbish bin, a bicycle-style bike rack, a Sujus table and chairs before plunging down the stairway and into the back entrance of Village Headcourters on Napier Rd.
Inside Anke Peachey's 4-month-old baby Lotta was asleep in her pram.
"I was just sitting there in front of the mirror with my hair in foils, waiting for the chemical to soak in," Ms Peachey said.
"There was a buildup of noise over one or two seconds, getting louder and louder and closer and closer.
"I jumped up and pulled the pram towards me and the car was suddenly right there."
She said staff and several customers just stared at the vehicle inside the salon at first.
"It was very strange because it came through the rear."
She took her baby out of its pram.
"I had her in my arm and then I started to shake. There was that metal smell - she had come down the stairs and ruined some the posts there.
"I said I wanted to get out of there so I passed her over to somebody at the door and climbed over. I was afraid something else might happen - you never know. I didn't know the cause of the accident."
Coreen Russell, who owns the Napier Rd salon with daughter Ange Davies, said the driver was trapped inside the vehicle.
"We had to wait until a fire engine came and let her out the back end of the car," she said.
The driver was about 40-years-of-age and appeared well, but was taken away by ambulance with minor injuries.
"It was amazingly lucky nobody got hurt - everything else can be fixed," she said.
"It was incredible. You could hear all this deafening noise but until it smashed through the salon you didn't really know what was happening."
Ms Peachey said bystanders were "very, very kind".
"The guy from Diva's came and offered his help - everyone was very supportive.
"Once we calmed down they took us to a different salon to wash the hair and get the chemicals out."
Ms Wilson said everyone remained calm.
"I felt really sorry for the driver - I just wanted to give her a hug," she said.
"There were people taking photos and everything through he window and this poor lady felt so bad about what happened.
"It was good that she hit a couple of things before she went down the stairs and flew through the door - the noise was loud and people knew something was going on."
Ms Peachey said the accident could have been much worse. Her other daughters, 8-year-old Stella and 5-year-old Lina, were taken for a walk by a friend.
"I try not to think what could have happened, that would make me so freaked out - if the other kids had been there."
Her husband Mike is a volunteer in the Phillipines, working over Christmas for the charity Shelterbox following Super Typhoon Haiyan.
"I have lots of friends - even ones from Auckland - who have offered to come and stay," she said.