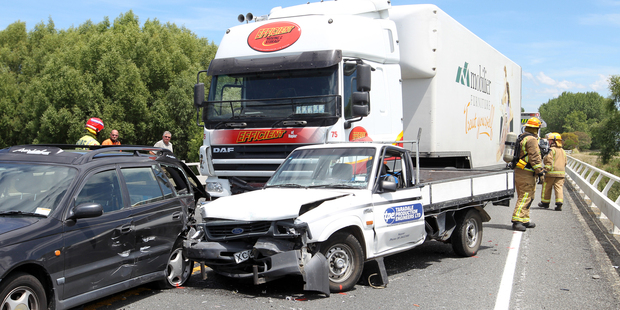 A four-vehicle pile-up on the Hawke's Bay Expressway yesterday left a man trapped in his ute with leg injuries and a woman with chest injuries.
Emergency services attended the scene at about 1.45pm on the Tutaekuri River Bridge that involved a car, ute, van and a furniture removal truck and closed the road for more than an hour.
The driver of a van involved in the pile-up said she was following a blue ute at about 90km/h when it suddenly stopped.
"I just missed him - I slammed the brakes. Far out, I thought I was going to go over the edge. The driver just kept going, then pulled over and left again."
The woman, who did not wish to be named, said the whole incident would have taken only a matter of seconds.
"He just stopped, stopped dead. I just swerved and braked. Emergency services were here only about three minutes later."
A police spokeswoman said the driver of a white ute was trapped in his vehicle and had to be cut free by the Fire Service. He was taken to Hawke's Bay Hospital by ambulance but was discharged later in the afternoon.
St John spokesperson Stephen Smith said two people had been taken to hospital including a woman with chest injuries.
The woman was driving the car and was discharged from hospital yesterday afternoon.
Two other drivers were uninjured.
Police confirmed yesterday afternoon that they were not seeking anyone else in relation to the incident and that all vehicles had been accounted for.
"It seems the queue has just come to a stop as it sometimes can and the truck driver has been unable to slow down in time."
Police said the accident was a timely reminder of the importance of safe following distances.
"It's important at this time of year as the traffic gets a bit thicker and bit less predictable. Regardless of why the traffic has come to a stop drivers should be able to slow down in the passage of road that is available."
Traffic was diverted away from the bridge as tow trucks removed the crashed vehicles and cleared debris from the road. The road was opened again at about 3pm.
A group sitting on the riverbank said they saw the pile-up and thought it had been caused by a green vehicle stopping in the middle of the bridge.
"They all just crashed - four cars and a truck. It was really sudden, just a huge bang. We heard glass breaking," on of the group said, adding that emergency services were quickly on the scene.