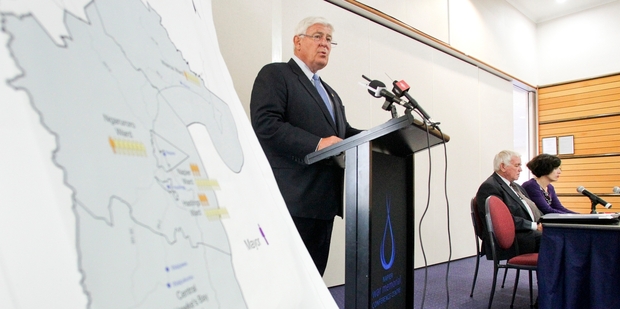 The Local Government Commission says communities within Hawke's Bay will retain their identities and autonomy under its amalgamation proposal - despite concerns smaller centres will be swallowed up if the plan for a regional super council goes ahead.
The commission is proposing a ward system it says is designed to ensure the council speaks with a region-wide voice and is not dominated by councillors from one area.
Its proposal has been criticised - including by the pro-amalgamation camp - for only including nine councillors across the entire region.
The A Better Hawke's Bay group, which lodged the plan that triggered the commission's proposal, had advocated for the election of 16 councillors and says it still believes there should be a minimum of two councillors for smaller areas, as opposed to one for three of the five lower-population wards as suggested by the commission.
The commission is also proposing a network of five community boards with the power to make decisions on local services and functions.
Community boards would be subdivided for elections to ensure "a fair distribution of members from throughout that area".
The commission says the experience of amalgamation in other regions does not support the argument that an established community loses its identity. "Examples of this are the former boroughs of Taradale and Havelock North," it says.
"The ongoing viability of local communities is more at risk from economic decline than from changes to council structures."
The commission says community boards would focus on their local areas and be expected to reflect their community's priorities and preferences.
"Community boards advocate for their community and are required to consult and communicate with their community," it says.
"The community boards would have as high a degree of empowerment as possible to act on behalf of their local communities and would be responsible for a wide range of delegated functions and services as well as being free to advocate on behalf of their own community."
Legislation is currently before Parliament which would make it possible for "local boards" - which would have more autonomy than community boards - to be established in regions including Hawke's Bay.
That legislation is expected to be passed into law by May or June next year. Local Government Commission chairman Basil Morrison said enacting of the new law, along with submissions the commission receives on its draft amalgamation proposal, would shape the final decision on Hawke's Bay's local body structure.
A community board cannot levy rates, make bylaws, borrow money, buy and sell assets or hire and fire staff. A community board can be disestablished by the council through the regular cycle of representation reviews.
In contrast, a local board has a co-governance role with the council and shares the same legislative protection as that council. A local board can only be disestablished as part of a wider reorganisation scheme by the Local Government Commission.
Local boards share decision-making with the council for all matters that are non-regulatory.
"We'd need to think about [the local board law change] in regards to whatever submissions we received - whether we waited for that to be enacted or not before we issued a final plan," Mr Morrison said.
He believes the structure of amalgamation proposal will give residents across the region adequate access to council services and elected representatives.
"In practice [the proposed board structure] will mean on the ground where you have six community board members [in a ward] you might have, for instance, three in the town and three in the rural areas. So you spread the effective structure right across the topography of Hawke's Bay."
Residents' access to council services and elected representatives would be through the five "service centres" proposed for Wairoa, Napier, Hastings Waipawa and Waipukurau. These would be hubs where council staff would be based and local board meetings were held.
"We think that will bring a benefit through the whole of the Hawke's Bay because they will be working within the structures of one council."