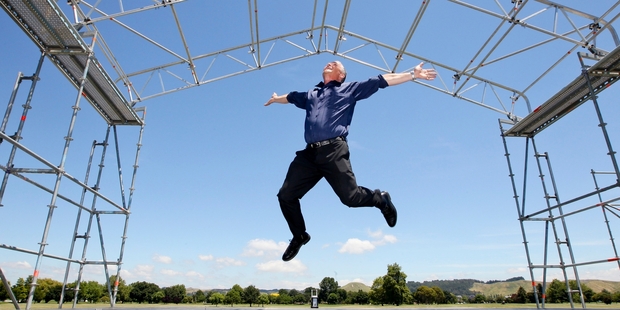 For 364 days of the year Anderson Park in Greenmeadows is a large green park.
Tomorrow however it will become a vibrant and colourful small town with an anticipated population of more than 20,000.
For David Trim, who steers the 200-strong volunteer team that effectively creates the temporary town and its remarkable festive atmosphere, the annual Cox Partners Christmas at the Park is a major exercise in planning and production - but also a major labour of love.
"It's just such a fantastic atmosphere and a really joyful occasion," he said as the staging and fencing was going up on Thursday afternoon.
"It is a massive task," said Mr Trim, who helps steer the Kaisen Charitable Trust.
"We have 1.3km of fencing, a huge stage, outdoor screen, gateways and the full infrastructure of power, toilets, lighting and rubbish disposal."
Mr Trim said the size of the event meant planning usually got under way around March or April.
"We have to start putting things in place. We have to find the artists and organise the programme and activities - get the committees formed and get into making it happen."
The organisers scored something of a coup this year by getting leading Kiwi singing star and X-Factor judge Daniel Bedingfield. "We were delighted to get Daniel."
As well as the fencing and staging, volunteers were working on creating a confidence course which would be run by the Westshore Sea Scouts, free face painting tents and a food court and merchandising area.
The event was being underwritten by the Kaisen Charitable Trust and the Napier Christian Fellowship.
Mr Trim said the free entry was "a gift to the city" from the underwriters who raised the money through funding trusts and foundations as well as sponsorship and donations.
The gates open at 3.30 on Saturday afternoon with the event set to wrap up at 9.30pm with what Mr Trim described as a unique signature fireworks display set to the narration and music of the Christmas story.
*The usual restrictions of no alcohol or glass apply, with car parking in designated areas on the York Ave side of the park.