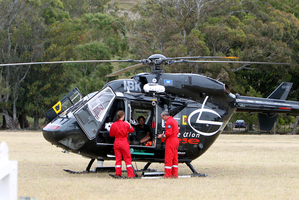 A 43-year-old forestry worker has been admitted to hospital with head injuries after being struck by a branch while felling trees in the Putere forest near Wairoa yesterday.
The man was part of a nine-person crew employed by Pan Pac Forest Products who were working on steep terrain when the accident occurred about 7.45am.
Operations manager for the forestry and logistics department Neil Weber said the man was working alone in an isolated part of the forest when he was struck on the side of the head by a falling branch.
Mr Weber said an investigation had begun into how the accident occurred.
He said all safety procedures were being followed at the time and the man was wearing protective gear including a hard hat.
"He was able to radio out to the rest of the crew."
From there, normal emergency procedures were followed.
Mr Weber said it was standard practice when felling trees for workers to be alone.
"It's for safety reasons, you don't want other people around. They have to be a certain distance away from each other."
The man, who has been with the company for about 15 years, was winched out by the Lowe Corp Rescue Helicopter.
Lowe Corp Rescue Helicopter pilot Jeremy Bruce said the crew set up for the winch before leaving Hastings and were at the site within about 20 minutes.
Mr Bruce said the patient was about 200m down a steep gully but was not hard to locate.
"We had approximate GPS co-ordinates and a loader driver at one of the skid sites was able to direct me. They were wearing fluoro jackets and were pretty easy to see," Mr Bruce said.
The man, who was conscious when the helicopter arrived, was winched up with the paramedic.
He was listed as being in a stable condition in Hawke's Bay Hospital last night.