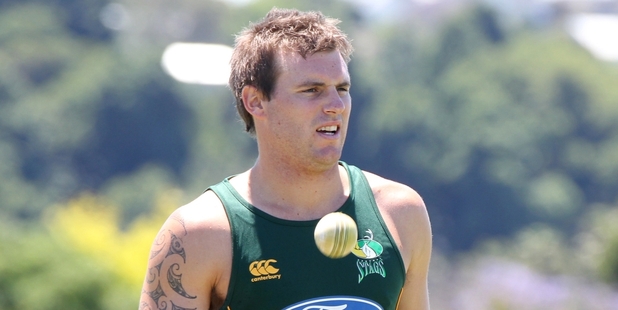 DOUG BRACEWELL partied with the Otago Volts cricketers on Friday night and didn't return to his hotel room until the wee hours of the morning.
"Dougie is really gutted about it," Central Districts Cricket CEO Hugh Henderson said yesterday after the Black Caps allrounder was dropped to 12th man from the Devon Hotel CD Stags team for the HRV Cup Twenty20 match against the Northern Districts Knights in Hamilton on Saturday night.
"We won't use the word curfew but we do adhere to standards," Henderson said of the 23-year-old who drank liquor with the Otago cricketers following their three-wicket win over ND at Seddon Park.
Bracewell, of Napier, has a cousin, Michael Bracewell, playing for the Volts who also have gained the services of former CD and Black Caps batsman Jesse Ryder.
Henderson said staying up until after midnight before a match wasn't going to be tolerated.
Just before leaving Hamilton yesterday, new CD coach Heinrich Malan said they had discussed the matter, taken appropriate action against the Taradale Cricket Club player but he was available for selection for Friday night's televised game against the Wellington Firebirds at the Basin Reserve.
"At the end of the day we have protocols in place. We are professionals and the Stags come first," Malan said, adding Bracewell wasn't "100 per cent" for Saturday's 31-run loss to ND.
"Doug's disappointed he's let the management, himself and his teammates down."
While Heinrich didn't want to be held accountable for Bracewell's past indiscretions, the coach wanted all his players to be "on the same page" of a new regime that instils a culture of professionalism.
"It's important to the team ... for him to make better decisions and take the chances to become successful at a higher level," he said, labelling him a "distinguished, quality and intelligent" cricketer who made a poor decision.
The Delhi Daredevils IPL recruit fell out of coach Mike Hesson's Black Caps equation in March after he cut his foot on a broken beer bottle while cleaning up following a party at his Napier home.
New Zealand Cricket reminded him of his obligations as a contracted international player, prompting Bracewell to apologise on national TV to fans as well as to his neighbours for the ruckus although he has had lean pickings since, playing in two tests against Bangladesh but finding himself on the fringes of selection with a glut of better-performing seamers.
He toured with the New Zealand A team to the subcontinent in September but he told Hawke's Bay Today he wasn't happy with his performance despite scoring a century and was keen to knuckle down to prove his mettle in the domestic competition.
While on tour, Bracewell told the Indian Express he had a disciplined upbringing although he had "gone off track during his brief time in school, where he got mixed in bad company and was a rabble rouser".
He recounted teenage years of listening to stories about his father, Brendon Bracewell, and uncle John Bracewell, who are former international cricketers and the latter was also New Zealand coach between plying his trade for the English county.
"My father and uncle were brought up the tough way. My grandfather was a hard man and sent them to the nets where they had to remain till 6pm. And if my father couldn't get John out, he wasn't allowed dinner. And John had to go hungry and stay out if he didn't score 100."
Brendon Bracewell still runs his academy in Napier, offering key import players each summer to premier men's club teams.
Brendon started his academy in Te Puna, near Tauranga, where Doug, along with a few other 10 to 13-year olds, learned his trade from his father and another former test cricketer, Chris Kuggeleijn.
The Indian Express says Brendon and Kuggeleijn were hard taskmasters who cracked the disciplinary whip and the erroneous ones were not just frowned upon but taken to task.
It recounts how the punishment depended on how calamitous the crime was.
While bowling too many balls down the leg-side meant no milk with their cereal the next day, far stringent measures awaited the likes of Bracewell. A kick up the backside was also on the agenda.
"Scott [the junior Kuggeleijn] used to come over for the camp. We were the trouble makers and I think dad offered to give Scott the plastic wicket around the arse as Scott's dad wouldn't do it," Bracewell is quoted as saying in the story.
Ironically, Doug Bracewell and Scott Kuggeleijn were 12th men in Saturday night's HRV Cup Twenty20 match at Seddon Park, Hamilton.
Brendon Bracewell also coaches the Ruahine Motors Ford Central Hawke's Bay premier men's club side.
In March 2012, Brendon said the Black Caps were right in axing his son and Jesse Ryder for breaking team protocol to drink before the final one-dayer against South Africa in Auckland.
The senior Bracewell said Doug was "extremely remorseful" after the recovering injured pair were involved in a verbal altercation in a Napier bar with a patron who asked them why they were out late drinking with Hawke's Bay mates after the loss at McLean Park.
It was Bracewell's first brush with the cricketing authorities after making his international debut in 2011.