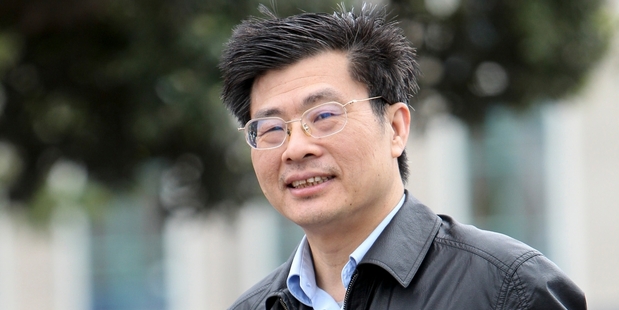 A Napier store owner who escaped conviction for selling a non-approved psychoactive substance without a license says he made a "stupid mistake", while a local councillor hopes the case will serve as a warning to others prepared to break the law.
In the first prosecution of its kind in Hawke's Bay, Vigor Brown Street Store owner Xinbaio Zhang, was charged with selling a non-approved product without a licence and selling a psychoactive product from an unauthorised place.
Mr Zhang, a Chinese national, pleaded guilty to the two charges after he sold a packet of Kryptonite to an undercover agent commissioned by the Ministry of Health on September 27. The offence took place just two days after the psychoactive substance was banned by the Ministry of Health.
He escaped conviction after Judge Tony Adeane found in the Napier District Court on Wednesday, that because of the timing of the incident the adverse consequences of a conviction would outweigh the level of offending.
The 51-year-old's lawyer argued a conviction would affect his chances of becoming a New Zealand citizen.
Mr Zhang told Hawke's Bay Today yesterday he thought the charges laid against him were "fair" but he was "very happy" not to be convicted.
He said he enjoyed living in New Zealand and described the incident as a "stupid mistake", and insisted he would no longer sell synthetic highs.
Napier City councillor Maxine Boag said, despite the lack of conviction, she was pleased to see a "successful police operation".
"The case will serve as a warning to people that police will prosecute anyone caught not licensed and selling illegal pyschoactive substances.
"It sends a message. They [police] don't miss much, they have strong community connections and they are out looking for offenders. It's illegal and if you are found to be selling the stuff you will be prosecuted."
She said communities, such as her Nelson Park Ward, want synthetic psychoactive substances "banned outright".
"People are just worried about it. They want it banned, its dangerous and damaging and as long as these substances are available and some of them legal, more people will be hurt. We hear so many horror stories and especially sad ones when they get into the hands of youngsters."
Mr Zhang was ordered to pay $500 toward prosecution costs.
Since the Psychoactive Substances Act took effect on July 18 dairies, convenience and grocery stores, service stations, and liquor outlets had been banned from selling psychoactive substances.