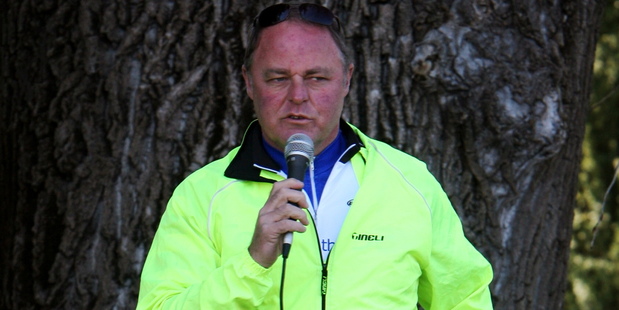 Local politicians hope the country's leaders will sit up and listen as a petition submitted to "ban the harm" of legal highs is presented to Parliament today.
Hastings district councillor Sandra Hazlehurst and Hastings Deputy Mayor Cynthia Bowers gathered 1040 signatures in support of completely banning legal highs after September's anti-psychoactive substances protest.
Tukituki MP Craig Foss submitted the Hawke's Bay petition and hopes it will be the next step forward in the battle to stop the "harm to young people, families and communities".
The petition will then be considered and submitted to a health select committee.
"The hope is it sends a strong message," Mr Foss said.
"The issue of legal highs is popping up all around the country. There have been good gains made lately, such as the 0800 number, which has helped create awareness."
This month Associate Health Minister Todd McClay launched a toll-free hotline on which the public could report concerns about psychoactive substances in their community.
Ms Hazlehurst was encouraged to see nationwide support to ban legal highs.
"Naenae in Wellington has put together a very strong petition, Hamilton is holding rallies and we have seen in Whanganui and Northland support as well.
"They legalised 27 strands of the drug and they were supposed to be safe, but the one the young boy took proved they are not safe at all," Ms Hazlehurst said.
In September the ugly effects of legal highs were witnessed in the Hastings CBD when a 12-year-old boy, high on synthetic cannabis, attacked a 49-year-old man.
She was hopeful the country's leaders would "sit up, listen and ban the lot".
"I think it will be a massive election issue. I know of five provincial cities around the North Island that are opposing the stuff and I'm sure there are plenty more.
"We are not going to sit back and accept the act the way it is. It took a 12-year-old boy to do a terrible thing to prove this stuff is not safe. We just can't trust them [the drugs]."
Ms Bowers hoped the petition would lead to the Government altering its stance on recreational drugs.
"I would have thought if there was any doubt with any of these drugs, any doubt at all, they just wouldn't be sold.
"I think the whole process is flawed. There are legal drugs, like alcohol and tobacco, that already cause significant problems in our community. Why would we legalise other drugs that cause just as much, if not more, harm?
"We are seeing in Hastings that the R18 policy is not working. The current law assumes the people buying these drugs are going to be responsible. But these people clearly are not."
Mr Foss said "everyone" wanted to ban legal highs and the harm they could cause.
"Because they are synthetic, people are just whipping up another concoction as soon as one is taken off the shelves."
He said despite the perception of an epidemic, the Psychoactive Substances Act had placed the "burden of proof" on people who produced legal highs.
"Life is definitely getting harder for those that produce and sell the stuff. Those that produce now have to prove that the stuff is safe before it can be granted a licence.
"Now that they are regulated we are able to have a better picture of who is buying it, selling it and producing it.
"The harm to young people has been reported widely, and fair enough, but it is also the family that is being harmed and the community. The hope is we can continue to reduce the harm these drugs cause."
Since the act took effect on July 18 dairies, convenience and grocery stores, service stations, and liquor outlets have been banned from selling psychoactive substances.