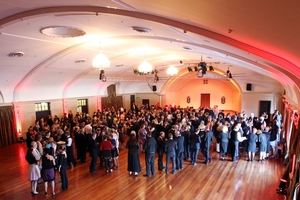 Radius Medical Solutions is the winner of the Westpac Business of the Year Supreme Award.
The business claimed the award at the Westpac Hawke's Bay Chamber of Commerce Business Awards last night, as well as scooping the Pan Pac Large Business Award category.
Radius CEO Adri Isbister accepted the trophy at the black tie event at the Hawke's Bay Opera House for her Napier company, which provides business performance and compliance support services to 28 New Zealand medical centres.
In a hat-trick for the company, she was also awarded the Westpac Excellence in Business Leadership Award.
On receiving her second award she said she was speechless but described how her company's work enabled medical professionals to help more people. "We release the clinician's time. Our doctors, our nurses and our health care assistants are able to do what they do very well because of what we do - all the business support that they need."
She credited her team one by one. "I am a great believer that one of us is not as strong as all of us. It is a pleasure to continue to grow our business in Hawke's Bay."
On winning the Supreme Award she truly was speechless but continued to thank her team profusely.
The judges said Radius had a totally dedicated team who had more than doubled net profit in the last three years, increased customer numbers by 40 per cent and grown the business with a balanced combination of acquisition and organic growth.
"The Radius customer and staff focus was also a stand-out feature of a culture of transparency and strong shared systems," the judges said.
FPG Group CEO Robert Darroch was named the Hawke's Bay Today Business Person of the Year.
FPG supply in-store fittings and livery for some of the world's leading food retail and hospitality brands across 40 countries, with McDonald's, IKEA, Mobil and BP among its customers.
Mr Darroch is on the board of economic development agency Business Hawke's Bay and was one of the key drivers responsible for bringing business growth organisation The Icehouse to Hawke's Bay.
He said accepting the award was "very humbling" and companies should not be afraid to "put up their hand and ask for help". "There are a lot of people out there ready and willing to help."
The awards were attended by more than 350 business leaders including Tukituki MP and Minister of Commerce, Craig Foss.
Westpac area manager business banking Steve Pinder said Westpac was delighted to help with a programme that inspired organisations to strive for, and celebrate, success. He said companies that gave their time to be scrutinised by the judges were courageous but all had benefited. "Congratulations to the 2013 Westpac Hawkes Bay Chamber of Commerce Business Awards winners - we're sure this is a stepping stone to even greater business success."