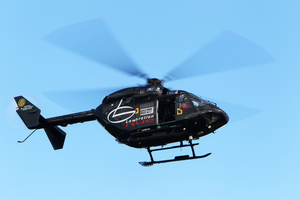 UPDATED: A seven-year-old boy and his 22-year-old uncle have drowned after trying to rescue a younger relative at a beach near Wairoa this afternoon.
Emergency services were called to a beach area at Iwitea near the Whakaki Lagoon, about 20km north of Wairoa at 12.50pm today. Family members said the seven-year-old boy and his older uncle had gone into the water to rescue a younger female relative who had got swept into the sea by a wave as she walked along the foreshore.
While the young girl managed to make it back to shore, her two rescuers got into difficulty and could not return to shore.
Sergeant Greg Lexmond of Gisborne Police said a search was immediately activated for the missing pair, including The Lowe Corporation Rescue Helicopter from Hawke's Bay and the ECT rescue helicopter from Gisborne and a fixed aircraft from Gisborne
Both bodies have now been recovered. The seven-year-old's body was spotted from the air just after 2pm, while his uncle was found around 3.30pm.
Mr Lexmond said the boy and his uncle were part of a family group who were gathering at the Iwitea Marae to prepare for a family wedding. The boy is from Auckland while his uncle is from Wairoa. Their names will not be released until all family have been notified.
Police were notified about the incident at midday.
"Two other children ran to a local marae to raise the alarm," Sgt Lexmond said.
"It appears the group were walking along the shore when the girl fell into the sea."
Police said the sea conditions were said to be quite choppy but reasonably small at the time.