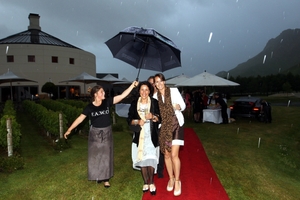 More than 450 people walked the red carpet at Craggy Range Winery last night, to celebrate the opening of this year's Food and Wine Classic (F.A.W.C!).
The Summer Series Launch Party officially opened the F.A.W.C! festival, which kicks into gear this weekend with an abundance of events organised for food and wine lovers from the Bay and beyond.
"Some of the celebrity chefs and VIP's are here now and it's nice to see a whole lot of F.A.W.C! flags flying," Tourism Hawke's Bay General Manager Annie Dundas said.
The event, which started in style with hundreds of guests welcomed on a red carpet style parade among the vines at Craggy Range Winery, has grown since its inception last November.
"It's much bigger, we have 150 more (guests), more wineries involved - there are 10 compared to six last year - also chef Simon Wright [from the French Cafe in Auckland] is one of the key chefs, we didn't have him last time," Ms Dundas said.
The heavy downpour that greeted the event, just outside Havelock North, was not enough to dampen the spirits of celebrity chef Ray McVinnie who returns as a F.A.W.C! ambassador after taking on the role last year, and said he was looking forward to some of the weekend's events.
"It's a great event and so wonderfully organised. Annie Dundas has done a fantastic job again, it always seems to sell well and is just a fun celebration of food and wine," said the Masterchef judge.
Food stations were situated around the marquee, including tasty morsels of Mr Wright's special white bait fritters, while Euro City cars were parked up and filled with bottles of champagne. Guests were also able to enjoy some of Hawke's Bay's best wines from wineries including Craggy Range and Vidals.
An auction saw a specially commissioned artwork, an enlarged photo of an engraved and painted fork, by local artist and designer Leanne Culy auctioned off for $5,500, with proceeds going to Cape Sanctuary.
"We wanted to collaborate with Leanne because she is just so clever and it was something a bit different for the event," Ms Dundas said.
Ms Culy, who is well known for her painted oars, decided to work on the same design but on a much smaller scale, and used used the fork's partner, the knife, to engrave her artwork.
Craggy Range was selected for the opening as it was able to cater to large crowds and offers a spectacular backdrop.
"It's iconic venue, the view of Te Mata Peak is so special and 450 people is a lot of people, but the team out there are so organised. There are lots of fantastic venues in Hawke's Bay but we felt this one was a great representation of the region."
Hawke's Bay Tourism communications manager Vicky Roebuck was excited for the F.A.W.C! events kicking off this weekend, saying a number of new events this year would be a highlight for those who attended the previous F.A.W.C!
She said ticket sales so far had been almost double what they were last year, with a large contingent of "out of towners" expected for a number of the events.
Though the rain dampened the launch last night , Metservice forecast fine weather for today and tomorrow.
An international media contingent will also descend on Hawke's Bay over the next week, including journalists from from Saveurs, France; Intermezzo, USA; Globe and Mail News, Canada and News Limited, Australia.
A strong national presence will also be felt with representatives from the New Zealand Herald, Wine New Zealand magazine, Bite and Living as well as New Zealand Women's Weekly.