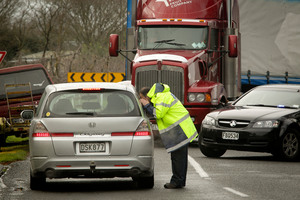 A man who led police on a chase through Hastings with a baby not properly secured in the front seat of his car has pleaded guilty to all charges stemming from the incident.
Charlie Ngepera, 32, appeared in Napier District Court yesterday where he entered guilty pleas to charges of kidnapping, assault, reckless driving, threatening to kill, endangering life, failing to stop and wilful damage.
The court heard today that Ngapera had had an argument with his partner that turned physical on August 2 of this year.
His partner left the address and went to the police station leaving a 15 month old infant with Ngapera.
Ngapera followed his partner to the police station and was approached by a friend of his partner's outside.
She asked for Ngapera to give her the child but he refused to do so.
Rather than leave the infant she got into the car.
Ngapera then sped off, leading police on a chase through the Hastings suburb of Whakatu.
The court heard he assaulted the woman in the car when she tried to get out.
Police said as the sirens came closer the man had crashed through the gate of a private orchard, losing police for long enough to abandon his car in Ngaruroro Ave.
He had then gone to a local kohanga reo and persuaded a woman there to give him a ride back to Napier, but was caught when they were stopped at a roadblock on the corner of Station Rd and Ngaruroro Ave.
He had surrendered without incident.
Ngapera has been remanded in custody for sentencing next month.