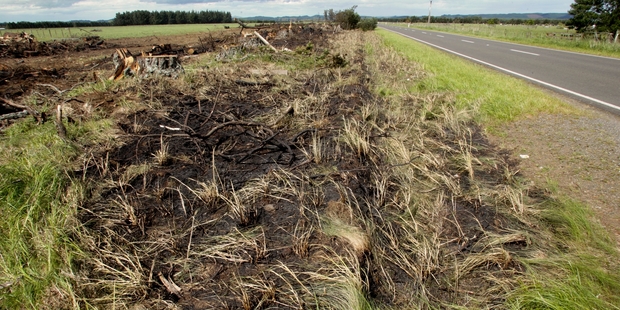 Fire crews battled for seven hours to control three blazes that spread to shelterbelts and roadsides near Ashley Clinton on Saturday. Volunteer crews from Tikokino, Ongaonga, Ashley Clinton and Norsewood responded along with Tamatea and Omakere rural fire teams.
Up to 30 personnel were on the scene and used four tankers to fight the fires, with water drawn from a creek about 2km away in relays.
Several fences had been destroyed by the fires with the scene monitored through the night in case there was a flare-up.
Central Hawke's Bay District Council regulatory services manager Te Aroha Cook said a restricted fire season could be introduced into Central Hawke's Bay within a few weeks.
"We have been holding off putting in fire restrictions but we may have to - it could be three or four weeks away," she said.
Open fire season permits can be obtained directly from the council, whereas in a restricted fire season permits are needed from a rural fire officer who may stipulate conditions on burning - with at least 24 hours notice required between the request for a fire permit and the time to burn, to enable staff to inspect sites and process permits.
Ms Cook said while the region may appear relatively green soil moisture was low and conditions were rapidly drying out.
That and the seasonal and often unpredictable high winds had accelerated the danger - as was illustrated just after 10am on Saturday on a property off Ashcroft Rd about 15km west of Waipawa.
The area had been the site of tree clearing and three large piles of slash (branch and tree debris) had been built up for burning.
Ms Cook said the property owner had sought and been issued a permit and had called at 8.30am to say he was starting the fires, and that the wind was light and coming from the south - which meant the smoke would not drift across the roads.
"He had done all the right things," she said. "But he was just unlucky because an hour later the wind got up and the direction changed."
Sparks and flying embers from one of the fires set fire to three trees in a nearby shelter belt and other fires started breaking out in dry pine needles and grass beside the road.
"He did the right thing. He realised quickly there was an issue and rang 111 straight away - he did not delay or try to put the fires out himself."
Ms Cook said the three main fires of burning tree debris "weren't small" and crews spent about seven hours battling the string of fires which broke out downwind from them and ensuring they were completely out.
Excavators were brought in to break up the main debris piles so they could be put out.
She said the property owner accepted there would be a cost for the call-out and was understood to be speaking with his insurance company. "But the cost will be a lot less than it would have been if he had not called 111 so quickly."
Ms Te Aroha said areas of the Takapau Plains had micro-climates where conditions were difficult to predict.
The fires served as a timely warning for landowners to give second thought to staging rubbish burn-offs, she said.
Meanwhile, being called to deal with two rubbish fires at Meeanee on Saturday has resulted in the fire service issuing a "put it out before nightfall" reminder.
While there are no fire bans in place, Napier Fire Service senior firefighter Mark Magill said people carrying out burn-offs needed to be aware that such fires should be put out at dusk unless a special permit had been obtained.
"People see fires at night and we get the calls," Mr Magill said.
He added that there was always the risk a large fire lit during the day and allowed to burn into the night, could cause sparks to spread.
It was a series of calls from spectators at the opening night of the Meeanee Speedway season which prompted the first call-out at 8.10pm.
They could see distant flames in a property along Sandy Rd. Firefighters arrived to find a burn-off of orchard clippings taking place and extinguished it.
About 50 minutes later the second call came in from a person who said there was a blaze at a property off The Loop Rd at Meeanee.
It turned out to be a burn-off of demolition material which had been burning through the day, and had continued to flare up. It was not known if special night-fire permits had been sought.