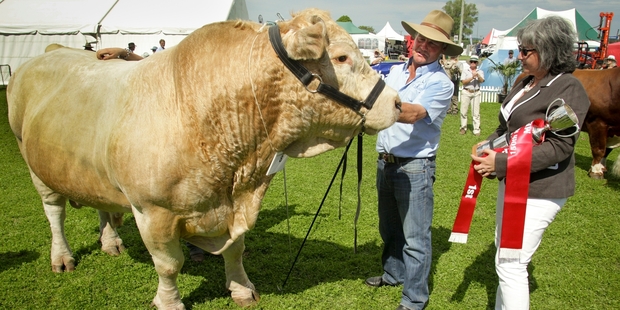 If the 150th Hawke's Bay Show is all about celebrating the vintage years, then sheep dog triallist Keith Satchwell and Charolais bull Rauriki Beaujolais have come to the right place.
Turning 91 next month, Mr Satchwell has again qualified for the show's sheep dog trials run-off today. Retired some years from farming near Tutira and living on a smaller block west of Hastings, he and bitch Sue have emerged from more than 240 entries for a place in the final 15 for the early-afternoon showdown on People's Day.
No one had done any checking, but he would have to be the oldest competitor at the three-day show, which marks 150 years since the first HB A and P Show in 1863. It's more than a third of that time since Mr Satchwell won a New Zealand sheep dog trials championship, in Marlborough in 1960.
Beaujolais is no spring chicken either - his seven years of age apparently being quite old for a showing bull, and one of the oldest cattle of any sort to win the show's Meat and Wool Cup, which he did yesterday for Ormondville breeders Simon and Wendy Collin.
The good ones are usually about four years old, but Beaujolais picked his moment: the momentousness of the occasion, Royal Agricultural Society medals at stake for the first time in Hawke's Bay since the last Royal Show at Hastings in 2003. It was also Mr Collin's first Meat and Wool Cup win at the show since he did it with a Romagnola in 2001. Thus, he was pleased for Beaujolais to be able to go out on a winning note. "This is his last show," he said. "He's had enough now."
As it happens, Beaujolais is heading for Maungahina Stud, east of Masterton.
The cup was presented by British High Commissioner Victoria Treadell, who earlier had been among dignitaries at the show's Presidential Luncheon, also including Minister of Primary Industries Nathan Guy; Argentine Ambassador Fernando Escalona; and Royal Agricultural Society president John Grigg, of Hororata, in Canterbury; and Beef and Lamb NZ chairman and new Government agricultural trade special envoy Mike Petersen.
Hawke's Bay A and P Society president Robert Pattullo said the luncheon had been a good way to honour those who had served and supported the show "... and helped put this 150th show together."
From the marquee on the southern embankment, those at the luncheon were able to get an impressive view of the first of two parades, the second being the revived Grand Parade, starting at 1.30pm today.
After brief rain and day-long overcast conditions on the first day on Wednesday, the weather at the show yesterday was fine and warm, with a maximum temperature around 25C.
Today, when up to 30,000 people were expected, based on past trends, the maximum was expected to be about 22C, with wind, and possibly some rain.
But yesterday showgoers reckoned the forecast was as seasonally unstable as the weather itself.
Mr Pattullo, appearing as excited as the first day he set foot on the showgrounds, found a personal interest in two topdressing aircraft on display, and the Land Rover Showcase - he hasn't had a "Landy" on the farm for years.
While numerous event highlights were scheduled for the last day, it's the big day for amusements operators at one of their biggest shows in New Zealand. Paul Mahon, whose company has about 35 rides and sites, said: "The weather's a big issue. Let's hope the forecasters have got it wrong." Most of those at the show on the last day would take at least one ride or buy at least one candyfloss, hot dog or toffee apple, he reckoned.
Today's highlights
*Grand Parade, 1.30pm.
*Great Raihania Shears shearing and woolhandling, all day from 8am.
*Sheep dog trials from 7am and top 15 run-off from about 12.30pm.
*New Zealand Farm Fencing Championships doubles.
*150th Fashion Showcase, noon.
*Terrier race, 1.15pm.
*Showjumping and equestrian sports, from 9am - including World Cup trial at 2.30pm.
*Hawke's Bay's Strongest Man.
*Sheep judging, axe sports.