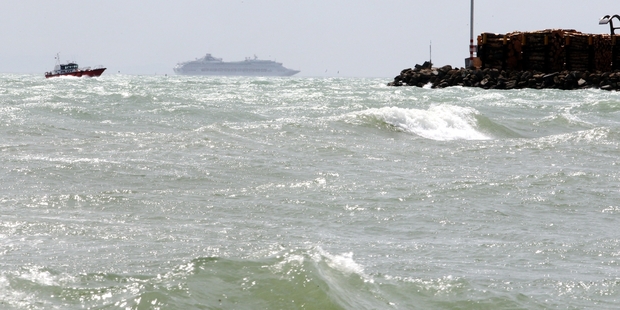 The 2013/14 cruise-ship season got off to a hiss and a roar in Napier yesterday - which is all the 1950 passengers of the Sea Princess were able to experience during their visit to the Art Deco capital of the world. The hissing and roaring of a strong northwesterly wind which in the end proved too strong for the pilots to consider trying to ease the 77,500-tonne liner into the port just after 11.30am.
"For safety reasons we have standing orders and the wind was just too much," Napier Port operations manager Chris Bain said. "It was the pilot's decision - they assess it as they see it."
The sea was whipped into whitecaps by the wind which at the time was averaging 56km/h, with some gusts reaching 74km/h.
MetService meteorologist John Law said Hawke's Bay could expect gusty winds until this morning before the northwesterly front moved through.
"It is going to be quite blustery in the morning but it will get better and brighter as the day goes on," Mr Law said.
A peak wind gust of about 80km/h was recorded at Hawke's Bay Airport yesterday.
A warning was in force for severe gale northwesterlies in Hawke's Bay from late afternoon yesterday through to this morning. Mr Bain said turning the big ship side-on to the wind for the entry to the port would have been too tricky because it would have acted like a giant windsail.
The liner stood off for about 20 minutes before the decision was made, then turned and made for Wellington.
"Very disappointed," was Napier i-Site centre manager Jane Libby's response to the cancellation.
"But you can't do anything about the weather and it is a safety issue."
The ship had been originally scheduled to arrive in Napier on Sunday but had been delayed by a day after not being able to enter the Port of Tauranga on Saturday - which was also because of high winds.
"So after that, the operators were all ready and lots of people were revved up."
Many passengers had booked tours with operators for sightseeing, to wineries and Cape Kidnappers.
Mrs Libby said many would also have been specifically looking forward to getting to Napier, having heard about its Art Deco landscape.
"Hopefully they can come back one day," she said.
The next cruise liner, the Sun Princess, is scheduled to arrive on October 22.
Fifty-eight cruise ships, now reduced to 57, are scheduled to call at Napier this season.
Yesterday a high of 24C was recorded in Hastings yesterday, while Napier reached 22C.
Mr Law said rain would arrive today during the early morning, with the heavier falls in the ranges, while coastal areas would get scattered downpours.
Meanwhile at about 5.30pm yesterday high winds caused a fallen tree to block one lane on Longlands Road, Hastings. Police and a JB Bostock crew were called to clear the road of debris.