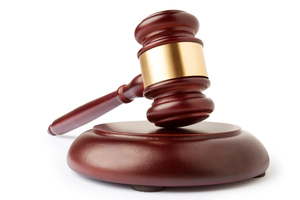 A Napier man who conspired with two friends in New Plymouth to rip off their insurance provider by staging a fake burglary has been sentenced to community work for his role in the scheme.
Michael Jeoffry Holland, 26, was sentenced in the Napier District Court to 125 hours of community work after pleading guilty to a charge of obtaining by deception.
Judge Tony Adeane labelled the fraud "elaborate" and said Holland and the two other defendants had engineered a bogus burglary which resulted in an insurance company paying out $25,000 to replace 'stolen' goods.
A police summary of facts said Holland had been good friends with Samantha and Hayden Smart of New Plymouth who had been renting a house in Eltham at the time the incident occurred.
The Smarts had been attempting to raise money to purchase their first property and formulated a plan to stage a burglary at their address.
The plan involved Holland travelling from his address in the Napier region to assist in the burglary and disposing of some of the property, including a Ford Courier ute.
On January 11 of this year the plan was acted upon. Samantha Smart arranged for a friend to give Holland a ride from Hastings to the address in Eltham, where she had spent the afternoon taking photographs of items that would later be reported stolen in the alleged burglary.
Holland arrived at the Eltham home where the couple had arranged to go to dinner down the road at a friends house. Holland did not attend the dinner and instead remained at the Smart's property where he carried out the pre-arranged burglary.
The Smart's remained out until 1am after which they returned home to find their house 'burgled' and reported it to the police the next day.
They alleged a large amount of property had been stolen including three firearms from inside a locked wardrobe, a large quantity of electrical goods, alcohol, snowboards, meat, bed linen, clothing, jewellery and the Ford ute which was parked on the lawn. The contents and vehicle were all insured by AMI who paid out a total of $24,933.70 to the couple.
In April in this year AMI contacted the police after becoming suspicious of the alleged burglary and the settlements that had been paid out to the Smarts.
Search warrants were executed at the home the couple purchased following payouts from AMI and at the home of Holland in the Napier area. All three initially denied the facts as outlined but eventually pleaded guilty.