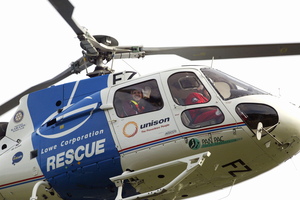 The participants in an inaugural obstacle course challenge in the Hawke's Bay high country this weekend are being advised to take a towel - and even a pair of rugby boots if they want to get serious.
The boots will be for the terrain while the towel will be for getting dry after the post-event showers which will be essential as parts of the unique course feature mud.
Mountain Valley Adventure Lodge owners Doug and Julie Batt have organised the inaugural Mud and Guts Challenge as a fundraiser for the Lowe Corporation Rescue Helicopter service.
Mrs Batt said being in a relatively isolated mountain valley location about 40km out of Napier off McVicar Rd made the helicopter service a worthy and suitable one to support.
The event is being staged over a 7km course which has about 35 obstacles which have to be cleared.
"It's quite different from anything else in New Zealand because they are permanent constructions," she said.
The course had been used by rugby teams for fitness training and even as a venue for a difference for a hen's party - where the young ladies undertook the course in their pyjamas.
Mrs Batt said this Saturday's challenge was set up for teams and individuals and was laid out to be both a challenge or simply for fun. People wanting to register to take part could do so by emailing mountainvalley.co.nz or phoning 834 9756. Entries would be accepted on the day.