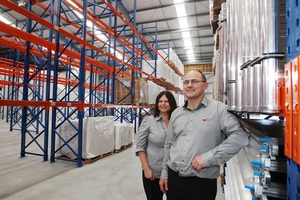 Dennis and Kaye Paxie have introduced a game-changing business model to Hawke's Bay.
The Fastway Couriers Hawke's Bay franchisees have purpose-built a pick and pack storage facility beside their Fastway depot in Onekawa called 3PL.
"Our solutions mean that businesses no longer need to tie up their capital in long-term leases to store their products or use their time packing boxes. We can do it all for them so they can focus on their products and marketing," he said.
"We are looking at a number of different projects with local importers, distributors and exporters and people who are just looking at different solutions for their own markets."
Because of their service, clients are simplifying their business model at a time most would be expanding.
"One customer was at the stage where they had to put in a cool store, costing them $60,000.
"They are not willing to do that and are handing over their storage and distribution to us so they don't have to invest - they can just focus on making and selling the stuff.
"There are a lot of importers and distributors who have outgrown their garage - we have a few of those. We have guys who have had their stuff in Auckland and want to store it locally - there hasn't been a logistics operation like us locally before. And I've got enquiries from three large overseas companies who are want the most efficient way of getting into New Zealand.
"We are looking at live seafood into Australia - that's quite interesting. We are looking at fish bait that will be advertised on TV and distributed from here, we've even had an enquiry from a guy wanting to distribute icecream direct to the door.
He said small wineries were showing strong interest, with many currently storing their wine at Wineworks in Hastings.
"For example a small winery out the back of Highway 50 that is picking and packing their stock themselves. They have to travel all the way in to Hastings a pick up a pallet of stock - if they can pick it that afternoon - take it al the way back out to Highway 50 and pack the orders and put on courier tickets. We pick them up as courier packages and put them through the system here. That case of wine is travelling about 150km.
"We can pick and pack right up to 6pm so as to deliver the next day and that case of wine is only travelling 10m between storage and dispatch.
"One of our clients is a large meat distributor that delivers door-to-door. 3PL will now pack all their products for them at 0C and either deliver directly to their customers or store the finished product in our temperature-controlled storage facility. It's a huge saving for their business
"It's a solutions way of thinking, it's a widening of the concept from just being a courier and storage operation ...
"It links very strongly with computerisation. We can take internet orders, create a pick and pack list with a computer-generated label that, when dispatched, sends a tracking number to the people receiving the goods."
Mr and Mrs Paxie owned the land the new building is on and entered into a sale and leaseback arrangement with a developer.
The new business has created five new jobs for the family business - seven family members are employed with the courier business.
Prices for the new business are negotiable - either based on long-term storage or per item shipped. The pick and pack rates is about half of what is charged by some Auckland providers, he said.
Mrs Paxie said it had been a stressful time setting up the new business.
"But if you don't take a chance you get nowhere."