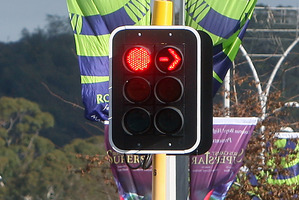 Hundreds of Hawke's Bay drivers each year are flouting rules at traffic-light controlled intersections, running red lights and failing to give way to oncoming traffic.
Newly-released police figures show 130 Hawke's Bay drivers were issued with traffic light-related infringement notices in the year to date.
Total infringements were 271 in 2012, 337 in 2011 and 388 in 2010.
Errant Bay drivers have racked up a total of $168,900 in fines since 2010 for offences at controlled intersections.
Figures from the New Zealand Transport Agency show six accidents at Hawke's Bay traffic light-controlled intersections resulting in serious injuries and 33 in minor injuries between 2010 and 2013 to date.
RoadSafe Hawke's Bay regional manager Linda Anderson said intersections were a top priority in the organisation's work alongside police.
She had witnessed many drivers crossing intersections on a late orange light, which turned red while they were still crossing.
"It's very concerning.
"People should actually be entering the light phase being prepared to stop, but what we actually hear is them accelerate to cross through [an orange light]."
Eastern District road policing manager Inspector Peter McKennie said he was "cautiously optimistic"about the decrease in traffic light-related infringements since 2010.
"Intersection crashes are something we keep a close eye on whether it be red light or give way or stop signs or even uncontrolled intersections because they tend to result in side on impacts which result in serious injuries."
Drivers often gave excuses of inattention, or thought it was safe to go through red lights late at night and early in the morning when there was little traffic.
Nationwide, red light running was the most common traffic light-related infringement, with 10,898 infringement notices issued in 2012 alone, although that had decreased from 15,037 in 2010.
Men were up to three times more likely to commit a traffic-light related offence, with the highest number of offenders in the 31 - 50 age bracket.
AA Motoring Affairs general manager Mike Noon said feedback from members and the public showed they were "heartily sick and extremely unhappy" with people running red lights.