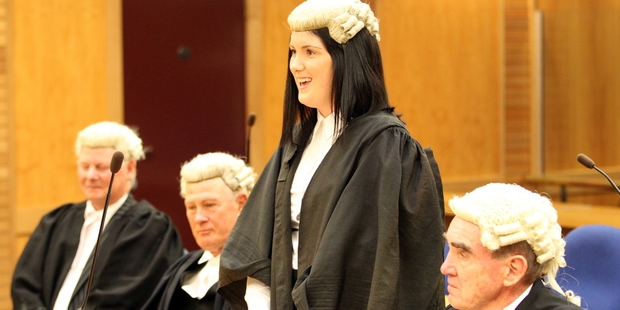 A penchant for law runs in the blood for one local girl, who just became the fifth generation of her family to practice law in New Zealand.
Last month Zoe Johnston, 24, was admitted to the bar at the Napier High Court in front of her father, godfather and family friends.
She admits the law played a role in her life from a young age but said it wasn't until she got to university that she decided it was really for her.
"My dad is a lawyer in Hastings so I grew up knowing more about that than a lot of other things. It was always an option but I took science in my first semester before deciding I wanted to try law. I think it's important for society to have lawyers who want to help regulate society and follow the legal system."
Miss Johnston's great, great, great grandfather was Sir Francis Bell, a lawyer in Wellington in the 1850's and the father of Sir Francis Dillon Bell, who was Attorney General and Prime Minister of New Zealand.
Sir Francis Dillon Bell was also a founding partner of Bell Gully, one of the oldest law firms in the country.
Miss Johnston's great grandfather was Sir Harold Johnston, a High Court Judge.
Her father, Quinton Johnston, is a practising lawyer in Hastings and one of her older brothers was admitted as a lawyer in 2003.
Despite being the only woman to follow suit, Miss Johnston says there is no pressure to live up to her family's impressive history and is quite happy to follow her own path.
She studied law and finance in Dunedin for almost six years before spending five months in Milan working for a boutique intellectual property law firm as a law clerk, and making the most of jaunts around Europe when opportunities popped up.
In May of this year she began working for a small commercial and property firm in Auckland.
"I was quite picky with what I wanted, I wanted to work in a small firm.
"It's more hands on and I learn straight from the partners. I'm not really sure where I want to end up but it's likely to be commercial law if I stay in Auckland. I hope to learn a broad range of legal specialties and broaden my horizons."