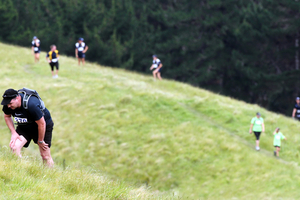 The organisers of the annual Peak Trail Blazer off-road run across the trails of Te Mata Peak have adjusted the distance of the event after discovering they had "ripped off" competitors of a few kilometres for the past three races.
"Hopefully people will let us off the hook," event manager Jo Throp said with a laugh as preparations got under way for this year's November 17 race.
She said many competitors had in the past remarked that it seemed like the course was longer than was stated on the event information sheets so she and her organising crew last week decided to check it out for themselves.
"We realised we'd short-changed entrants in previous years," Ms Throp said.
It transpired that the Te Mata Peak Trail, which was down as 12km, was actually 12.8km, and the 2km Tainui Trail was revised to 3.5km.
She said the one bonus for past competitors was that they could now see that they actually did a lot better than they initially thought they had.
The event was dreamt up four years ago as a fundraiser by three parents from Havelock North Primary School - Ms Throp, Susie Devonshire and Rachel Cornwall and had since donated more than $13,000 to two earthquake-affected schools in Canterbury.
It had grown to the point where last year it attracted more than 600 entrants.
The fourth Peak Trail Blazer will see the return of the always hotly-contested Aesthetic Dental Queen of the Peak and Quarter Acre Wines King of the Peak with each winner bagging a $400 cash prize.
"We're really excited to see who comes out of the woodwork this year to try and claim the titles and take home the cash," Ms Throp said.
Last year's event was the first to offer prizemoney and she said the organisers were "blown away" by the speed of the contestants.
"We wanted a sprint race and that's exactly what we got."
Part of the event, which had proved popular, had been the introduction of the Sub-60 Hall of Flames Club for competitors who competed the Te Mata Peak course in under an hour.
It currently has just 10 members.
People wanting to have a crack at the peak trails can find details on peaktrailblazer.co.nz