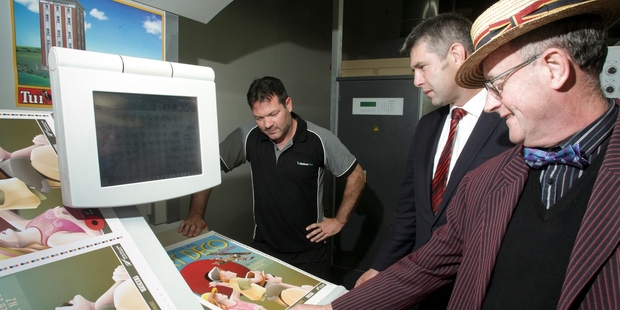 The 2014 Tremains Art Deco Weekend has received a $530,000 two-year financial boost from the Government, bringing a chorus of delighted "what-hos" at Art Deco Trust HQ in Napier.
Economic Development Minister Steven Joyce announced the investment into the 2014 and 2015 events yesterday - it will be sourced from the Major Events Development Fund.
Mr Joyce said the funding was a crucial component in raising the event's already growing international profile.
"Government invests in events that have the ability to showcase New Zealand internationally as a desirable visitor and major events destination," he said. "The two-year investment from the Government of more than half a million dollars in Hawke's Bay will be matched by funding from local and regional councils in that region."
The funding would provide the Art Deco Trust with the ability to step up and develop international marketing initiatives - targeting key trade markets like Australia, North America, China and the UK.
"It is very exciting," Art Deco Trust manager Sally Jackson said. "The overriding objective is to increase the number of international visitors into New Zealand for the event and increase the economic benefit of the Tremains Art Deco Weekend to Napier and greater Hawke's Bay."
Annie Dundas, general manager of Hawke's Bay Tourism, said she was thrilled with the outcome.
"Working alongside the Art Deco Trust to secure this investment shows how much can be achieved when we all work together. The Tremains Art Deco Weekend has huge appeal for international visitors and the additional funding will go a long way to enhance the overall event and successfully promote it on the world stage."
It also delighted main sponsors, Tremains.
Managing director Simon Tremain said the funding was key to the event's growth.
"Our organisation is 100 per cent locally owned and operated and proud of our Hawke's Bay heritage, so to be a part of this journey is extremely important to us. We want to make Hawke's Bay a great place to live and visit."
He said the initiatives the Art Deco Trust would look to advance would bring people "into our fine province" and showcase the region.
Awaiting confirmation of the funding had led to a few days delay in releasing the programme for the big event.
It is traditionally rolled out within the first two days of October - although the delay had been worth it, events manager Peter Mooney said.
"It's great news."
The first stage of the promotion of the 2014 event arrived earlier this week when the official posters rolled off the printing presses at another long-term backer of the event, Brebner Print.