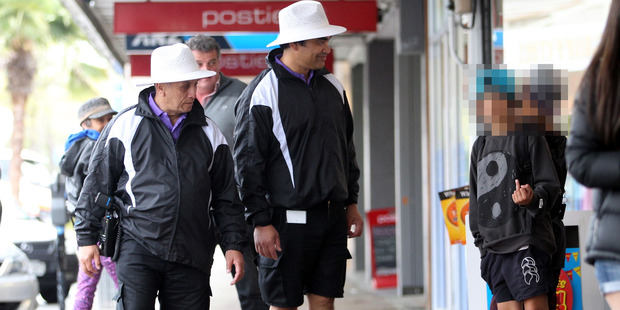 City Assist ambassadors and the Maori wardens began patrolling the Hastings CBD yesterday as part of the crackdown on antisocial behaviour in the heart of the city.
Hastings Mayor Lawrence Yule said he met the two City Assist staff before they started their first shift.
"They were positive about their new roles," he said.
"And the feedback we got from retailers was that shop owners were happy to see them around the town.
"You can't help but see them - they have got a presence now - and it will combine with the Maori wardens patrols, which also started [yesterday], and new bylaws we are looking to introduce," he said.
The City Assist staff would report back to a committee of the new council, after the coming local government elections at the end of this month, Mr Yule said.
The initiative was a six-month trial, costing about $40,000.
Takitimu Maori Wardens chairman Des Ratima said there would be six to eight wardens operating in the CBD from 10am to 2pm during weekdays.
He said the wardens responded to their first incident on Heretaunga St West yesterday and they were able to pass information on to police to take action. Mr Ratima said the wardens were working in a voluntary capacity.
But he said he hoped to secure a long-term agreement with the Hastings District Council.
"I was at the community meeting a few weeks ago to discuss the problems in the CBD," Mr Ratima said.
"I was asked if I thought we could help and I said yes.
"I didn't want it [remuneration] to be something that stopped us from meeting the wishes of the community.
"If we are able to go long-term, I would like to think we could reduce the number of wardens to two to four through the peak day times.
"If we still need to keep up to eight wardens, it may mean we're not making progress."
Hastings Community Patrol staff were also operating in the CBD.