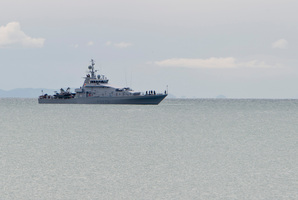 Being in the Royal New Zealand Navy is adventurous and filled with travel and training but there are also certain traditions and formalities to follow.
As newly appointed Leadership Development Group Warrant Officer, Mike Wiig, from Napier, explained while he settled into his new "shore" position at Devonport after more than two decades effectively at sea.
He joined in 1986, a year after his older brother Phillip joined, and both had gone on to stamp their marks on successful and high-ranking careers.
Phillip Wiig is a Commander while Mike is a Warrant Officer (WO) which means that older brother holds rank.
"Oh yes, I had to call him sir and I saluted him," WO Wiig said of the times at sea they had met up.
On land the tradition also stood firm, although he said there had been the odd occasion when he would deliver the salute with a cheery "gidday bro".
WO Wiig was selected for the Leader Development Group role and took up his posting on September 9. It effectively ended a colourful career at sea and overseas deployments, which was he was not too concerned about.
"I'm very happy with the new posting," he said. "I've spent a significant amount of time away from the family over the past 10 years. It's good to come ashore and be able to plan the days and spend time with them."
His wife Rowena and boys Stefan, 13, and Marcel, 10, were pleased to see more of their husband and dad.
His career has seen him serve during a string of exercises and operations, including tsunami and earthquake assistance in the Pacific, as well as postings to Iraq and overseeing the welfare of WWII veterans who travelled back to Crete in 1991.
In 1994 he was a senior medic aboard HMNZS Monowai which was deployed to assist in the rescue of 11 people during a storm which decimated a yacht race fleet that had set out from Auckland to Tonga.
He was awarded a gallantry medal for his work.
"Yes, it's been a pretty full and interesting time," he said, adding that his decision to follow older brother into the service had been one of the best decisions he had made.
"I was 16 and had no real direction. I was in the sixth form at Napier Boys' High and started to think about the military."
His brother's recommendation that it was a good life, and with his love for the sea it swayed him the Navy way.
"We'd grown up with boats. I remember dad making trailers so we could tow our 14-foot kayaks behind our bikes."
He had always enjoyed sciences and biology so went in as an ordinary medical assistant. He "pushed on" in the medic's role and in 2006 was promoted to Warrant Officer.
His new role with the Leadership Development Group is a challenge he is eager to take on.
"We are responsible for tomorrow's [Navy] leaders - preparing them - getting them there."
He had some advice for today's young students uncertain about where life would take them.
"Check it out on line. Talk to the recruiters and the careers advisers at school. A Navy ship is like a mini city and we've got a navy which is internationally respected and known for its ability to adapt and get things done," he said.
"A job with opportunities ... and you get paid to travel."