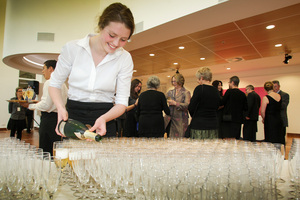 Exhibition designers, creators and curators took on a slightly different role yesterday as the final countdown began for the grand opening today of the MTG (Museum Theatre Gallery) by Napier Mayor Barbara Arnott and Minister of Arts and Culture Chris Finlayson.
They were spotted applying the final cleaning and polishing touches to the exhibit cases - ensuring the mounted artworks were aligned and straight, and looking the very best they could for the most critical appreciation of all - the public.
"There have been some long hours put in," MTG marketing team leader Pam Joyce.
"It's gone well."
For the staff, today is the culmination of three years' preparation - from the design and building of the $18 million redevelopment through to the cautious and exact assembling, collating, labelling and storing of every last one of thousands of items.
"It has been a long journey but we're nearly there now," Ms Joyce said.
It was exciting enough to see the doors set to open, but it was equally exciting for the staff to consider they are on deck at the newest museum in the world.
A celebratory cocktail party was held at MTG from 6pm last night to thank all those who have been part of the project from go to whoa.
"There are a lot of people who have been involved from a distance," Napier City Council Tourism Services sales and marketing manager Rebecca Ainsworth said.
"We want to show them how they have contributed, even if it was from afar."
Guests had an opportunity to look around the finished spaces before today's official public opening.
"It's a showcase of all their hard work, from the beginning when we were looking for funds right down to what you see now," she said.
A diverse range of people worked the room, from private lenders to major institutions including Te Papa, and local artists such as Martin Poppelwell - the list goes on.
"Art New Zealand and other museum and gallery directors, people who have worked on the creative side such branding, those who helped with installation, of course all of our sponsors," said Ms Ainsworth.
"It's quite a specialist thing so experts from other areas have been called in from across the country, they were rewarded with an invitation."