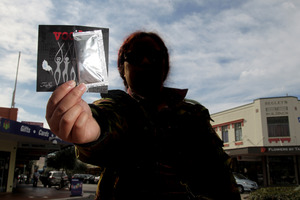 The mother of a 12-year-old boy who attacked a man in Hastings says her son was high on synthetic cannabis at the time of the attack.
The woman, who did not wish to be named, said she felt "sickened" as she sat in a police interview room with her son last Saturday afternoon.
"He said he saw a guy with a phone that he wanted and he went up and tried to smash it out of his hands but the guy retaliated and grabbed him.
"I think it gave him a bit of a shock. He ended up stomping on this guy's head, he had my son's footprint on his face."
The 49-year-old victim was left with a shoe imprint imbedded on his left cheek and was treated at the scene.
The young man's mother told Hawke's Bay Today she was disgusted by her son's behaviour and was at a loss as to what to do with him.
"I saw photos of the victim's injuries and I just couldn't believe my son did that. It could have been me - it still could be."
She said her son admitted he had smoked synthetic cannabis the day of the attack but it took two days to get a straight answer out of him as to what had happened.
She told Hawke's Bay Today he would not tell her where the drugs had come from but said he had been smoking synthetic cannabis, including K2 and some alternatives including Voodoo, since March last year.
"That's when we noticed a change in him, he was a really bright spark until about March when this synthetic cannabis first came into the picture.
"Sometimes he smokes five times a day."
She said she does not drink or smoke and thinks older children at her home may have first introduced her then 11-year-old son to the drug.
Following Saturday's attack, police arrested the boy and his 15-year-old associate at the scene.
Charges are yet to be laid, but Inspector Sally Patrick said the "disturbing attack" had left police considering a charge of causing grievous bodily harm.
The woman said her son had no idea how serious the situation was and did not appear to be remorseful for what had happened.
"His attitude around the house is disgusting.
We sort of try to push him just to see what he'll react to, but nothing has changed this week."
Hawke's Bay Youth Services Co-ordinator Sergeant Ross Stewart said the 12-year-old had been referred to a member of his team at Youth Services where the appropriate decision about how to deal with him was yet to be made.
He said the offences were of robbery and serious assault, and that the 15-year-old was still being processed.
The boy's mother said she "cannot wait" for Youth Services to begin working with her son as she had been told in the past he did not fit the criteria for many counselling services she had approached.
"We've tried to find a drug counsellor, an anger management counsellor, it's been quite a challenge. Most of them are tailored for adults. Because of his age it's been really hard."
She said her son had been kicked out of school about a month ago for trying to initiate other young teenagers into a gang.
"I enrolled him in an alternative education course, but I got a call from one of the tutors to say
Synthetic highs playing part in CBD woes
LITTERBUGS: Packaging for synthetic highs dropped outside shops.Insight, p4-5; your views, p13he is completely disrespectful."
The woman said her older children, who are either at school or working full time, are sick of her 12-year-old.
"They don't want him to go down the path he's on at the moment. It's very challenging to teach my younger children right from wrong when he's like this."
She said her daughter, who works in the CBD, frequently calls her to say her younger children are hanging around the area and harassing customers.
"He hangs out in town just to be annoying to everyone else. They are just there to cause trouble. He just tells me he's off to his friends house down the road but then I get calls to say he's in town."
The woman attended a council held public meeting on Wednesday night with counsellors, police and retailers. She said she felt compelled to attend to try to get some support.
"I've been working with the council to try and get some activities up for the kids in the school holidays and the weekends. I think a lot of anger has been directed at the council and the police but without support for the kids they're just going to run rampant."
She is sick of the antisocial behaviour in the CBD that her son has become a part of.
"Like every other family we want to go shopping and feel safe in our town. I'm sick of it, over it.
"If he came home with a bike or new shoes I'd take them straight away and go to the police. He knows he hasn't bought them and it's not right. I'd encourage other parents to do the same."
She said she would like to see productive activities for kids in Flaxmere to stop them from hanging around in town and has even planned a whanau sports day to take place tomorrow.
The woman said she hopes she will get some support to deal with her son and is worried for his future if she doesn't.
"Where he's heading right now is not good and it probably will escalate if it's not stopped."
At Wednesday's council meeting Hastings mayor Lawrence Yule said the use of synthetic drugs by young people was contributing to the problems being experienced in the CBD and central government had been "weak-kneed" when it came to the K2 issue.
"I have heard that $20,000 worth of K2 products were sold over one weekend at a CBD store."
Another Hastings mother is also concerned about the current state of the CBD and said the "hood rats" of Hastings have targeted and attacked her children.
"We have two teenaged children, one boy, one girl, both have been accosted on more than one occasion in town.
"Two weeks ago my 15-year-old was told by three boys, to hand over his soft drink, they then proceeded to physically search his pockets for any money.
"Intimidated, angry, and sick of this crap he is forever encountering in Hastings, he came home and asked if we could move to Australia where there are no hood rats."
She said the same Sunday afternoon her 14-year-old daughter was walking through the Westpac carpark to meet up with her father when another incident occurred.
"Three Maori girls approached her, they carried pocket knives and wanted her Converse shoes and puffer jacket.
"Luckily she waved her father over and the three girls quickly left the scene. This type of intimidation has happened to my kids and my friends kids on numerous occasions and we are sick of it."
She believed the William Nelson skatepark was not the answer to the problem.
"No, no, no. The decent children in Hastings want a skatepark, let the hood rats in and our kids are still in fear.
"My son said, 'the hood rats can't afford skateboards and bikes, the only time they are on one is when they've stolen it'.
"C'mon Hastings councillors, wake up to the reality, put a charge on the new skatepark, and enforce stronger laws for gang gathering in the Bay as did the public of Wairoa, and guess what, the public won."