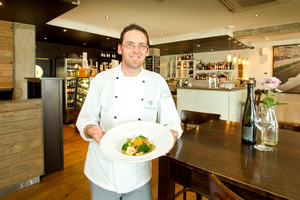 Category: Casual
Paolo Pancotti, who returned to Hawke's Bay after a spell back in his Italian homeland, teamed up with Sean Burns five years ago to open Milk and Honey on the sparkling Ahuriri seafront.
He wanted to infuse an Italian influence into the New Zealand surroundings and goes by a simple philosophy.
"I like simple flavours. If you start playing around with it too much you lose the flavour. I never use more than four or five ingredients in each dish. When I serve salmon, I want you to taste salmon."
And in the case of his entry for the Hawke's Bay Regional Signature Dish competition, that stands solid. He has taken a relatively traditional pipe pasta and broccoli dish and made it into something more contemporary and elaborate.
There is the infusion of delicate guinea fowl confit and, as Paolo explained, everything from the broccoli is used. The florets are carefully prepared and the stem is turned into a remarkable puree sauce. It is topped off with a poached egg yolk which undergoes a unique poaching process using salt and sugar - but without water.
The dish illustrates what he simply describes as cooking from the heart.
"You can learn the techniques of cooking, but that is the easy part. You cannot learn a genuine passion for it."
What helps spark his culinary imagination and skill is having access to the best of local ingredients, which he is passionate about.
"I have been around the country and around the world and Hawke's Bay produce is among the very best."