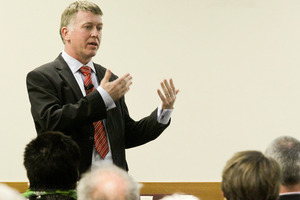 The Hawke's Bay District Health Board has agreed to be "part of democracy" after accepting to join a panel discussion on fluoride alongside Fluoride Free Hastings.
Chief executive Dr Kevin Snee said the board was not interested in a "theatre-style debate".
"My staff will have held three public meetings before this. They have made numerous presentations to a variety of organisations and they have worked tirelessly on this issue because it is so important for the greater good of our community. They have been subjected to personal attacks and many of our signs have been vandalised."
Last Thursday Dr Snee was witnessed forcefully removing and attempting to break Fluoride Free Hastings protest signs following the group's meeting and moments prior to a public DHB fluoridation meeting in Havelock North.
The discussions next Wednesday have been organised by the Hastings District Council and will be adjudicated by Napier lawyer Jonathan Krebs.
"We have said yes to the council to a panel discussion, not a debate, and have stipulated it be tightly controlled and well managed," Dr Snee said. "I remain frustrated that a small vocal minority is given the same weight by the council as the vast majority of dentists, doctors and scientists from around the world regarding the issues of oral health, medicine and the science."
Hastings Mayor Lawrence Yule said while Dr Snee may have a view on the issue it was not the view of everyone.
"That's part of democracy. We want people to turn up to the forum, listen to both sides of the argument and ask questions. We have democracy so people can choose, and so a local democratic council can make decisions."
Fluoride Free Hastings spokeswoman Angela Hair said the Hastings public would have been better served if the DHB had agreed to speak at a jointly organised meeting earlier in the month when the invitation was first extended.
The meeting will be held at the Hastings District Council Chambers, 7pm to 8.30pm, on September 25.
A final public meeting will be held on September 24, with a DHB meeting at 5pm and Fluoride Free Hastings meeting at 7pm at Flaxmere Age Concern.