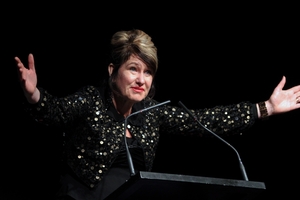 I am deeply saddened to see our beautiful Hastings city under attack in HB Today's front page article "Reclaiming our Streets".
I am equally concerned about the groups of adolescents who come to town to hang about and cause problems.
I have spoken to a large number of retailers over the past months that have brought this issue to my attention - school holidays and weekends are clearly more troublesome. It is time to take action and make positive changes for both the CBD and the youth of Hastings.
In my role as a Hastings District councillor, I visited Rotorua to see how they address the same issues we are facing now. Like many other New Zealand provincial cities with this problem, Rotorua implemented a City Guardian Programme three years ago. It has been extremely successful in dealing with CBD youth issues.
Using Rotorua's city guardian model, Hastings City Guardians will operate in our CBD from November 1.
Our two City Guardians have been appointed and completed their training.
Their positive, strong, physical presence will be our eyes and ears; they will support and assist our community constables, welcome and assist visitors and bring a positive and protective energy to our CBD.
In order to support the City Guardians' work, I would like Hastings District Council to adopt bylaws to improve the behaviour of people visiting the city. As a community we need to all agree that poor behaviour in our city is unacceptable. We need to take a strong, committed and collaborative stance against anti-social behaviour.
No one initiative or group can make a long-term positive change to this problem. All parties must take responsibility if change is to happen - the police, Hastings District Council, the Business Association and community groups.
I plan to form a Hastings City Safety Committee made up of the police, Hastings City Business Association, retailers, Hastings Security and City Guardians. This committee will develop a long-term strategic plan for a safer city and meet monthly to tackle ongoing issues.
At 7pm tonight a public meeting chaired by mayor Lawrence Yule will be held at Hastings District Council chambers to hear the views of those affected.
Hastings City is owned and loved by all of Hastings not by a few trouble-makers.
It is time for us all to step up and take responsibility for our city.
Sandra Hazlehurst is a Hastings City councillor and is standing for re-election in the upcoming elections.
Business and civic leaders, organisers, experts in their field and interest groups can contribute opinions. Email: editor@hbtoday.co.nz