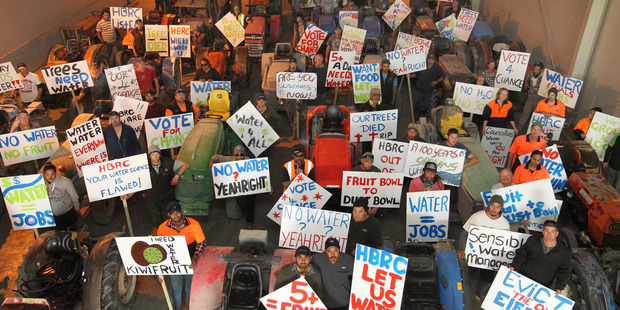 Traffic jams are expected today as a tractor convoy of angry growers travels across Hastings.
Growers Action Group (GAG) are upset after a total irrigation ban during the recent drought put millions of dollars worth of crops and hundreds of jobs at risk. They are calling for all Hawke's Bay Regional Councillors to be replaced.
Growers west of Hastings will be travelling together from Omahu Rd, meeting growers from other points of the compass at noon on Havelock Rd.
GAG spokesman John Bostock said growers were incredibly frustrated and upset.
He said the issue was much wider than just drought management. "We need to improve governance and management of water," he said.
"We also want clean rivers for our grandchildren to swim in, but it doesn't have to come at a huge cost to the Hawke's Bay economy." At the rally point growers would hear GAG's preferred council candidates speak: Rick Barker, Peter Beaven, Rex Graham and Tom Belford. Ngati Kahungunu Iwi Inc chairman Ngahiwi Tomoana has also agreed to speak.