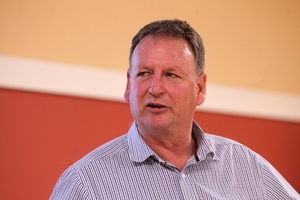 Hawke's Bay Regional Council senior staffers have come out in support of their former boss Andrew Newman.
Mr Newman was chief executive until June when he was moved to the council's investment company to concentrate on bringing the proposed Ruataniwha irrigation and water storage scheme to fruition.
He has been criticised by growers and environmentalists, who cite a culture of fear among staff under Mr Newman, as reported in yesterday's Hawke's Bay Today.
Environmentalist John Scott claimed a number of reports had been "altered to suit the outcome that is going to be required".
"They can't go public - they have children and mortgages - and so the integrity of the information that is being cobbled together isn't as robust as it should be."
Mr Scott is a member of a group, which he declined to name, that is poised to unleash a negative third party campaign orchestrated by former National Party campaign spin doctor Simon Lusk.
The council's executive team have put their names to a statement saying Mr Newman was coming under attack from Mr Lusk's unnamed group for political reasons alone.
"This group is not being honest with the Hawke's Bay community and wishes to undermine the progress being made by Hawke's Bay Regional Council on a range of issues," the statement said. "Allegations have been made of a culture of fear existing within the regional council against speaking up.
"Let's put some facts to this. Within the past 12 months an anonymous staff survey has been carried out across the organisation.
The result? With a response from 82 per cent of staff, over 80 per cent feel a sense of commitment to the council and would recommend Hawke's Bay Regional Council as a great place to work.
"Of course there are always areas for improvement - as in any workplace - but these results hardly point to an organisation in a state of dysfunction or living within a culture of fear.
"In our opinion, Andrew has brought a perspective to local government from his commercial experience that has allowed council to consider a wide range of responses to issues, rather than the traditional local government regulatory approach.
"He is proactive in dealing with the bigger issues that Hawke's Bay needs to deal with.
"This may have led to a level of discomfort outside the organisation because it challenges the status quo but is supported by us within council as we can see better outcomes for the community through this approach.
"Andrew has an impressive work ethic and a strong set of values.
"He has guided the council through a significant work programme of achievements over the past five years, prior to him moving across to the investment company.
"It would appear to us that having a strong vision and drive towards a vibrant Hawke's Bay community has made him a target. For some reason, success is to be frowned on in some quarters in Hawke's Bay.
"While it is election season and the merits of council achievements are being debated, we consider it important that a council employee is not subject to the unfounded smears, negative politics and allegations that Andrew is being subjected to.
"He has our 100 per cent support and if anyone is in any doubt we invite you to contact us in person."
The statement was signed by executive team members Liz Lambert, Graeme Hansen, Helen Codlin, Iain Maxwell, Ian Macdonald, Mike Adye, Paul Drury and Viv Moule.