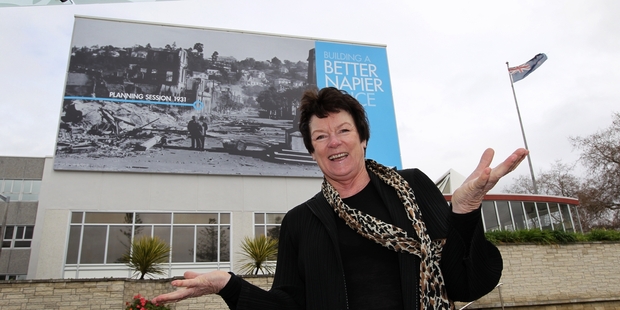 Napier's central business and retail landscape has not seen so much scaffolding, rubble and reconstruction since the 1931 Hawke's Bay earthquake.
With the cruise ship and general tourist season set to begin to build next month, the city council became mindful that visitors would be stepping into something of a construction site.
So it decided to add what Mayor Barbara Arnott called "some colour and explanation" to the city's landscape.
Part of that approach was the unveiling of a branding campaign called Building a Better Napier, which encompassed information signs, bumper stickers as part of a competition, and the unfurling of a poster at the council civic building in Hastings St.
But it is no ordinary poster as it measures 10m by 6m.
The image shows the shattered inner city streets of Napier with two men standing in the centre of rubble-strewn Hastings St.
A caption above them states "Planning session 1931".
Mrs Arnott said the banner, along with similar but much smaller signs at places such as Hawke's Bay Airport and around the city, was all about illustrating and getting the word out that the city was under going a huge building and renovation period, although the work had effectively begun 82 years ago.
"We are building a better Napier and have been doing so since 1931.
"The works along the Marine Parade, the MTG area, Tennyson St and Hastings St are enough on their own, and when you add the scaffolding around city buildings it can look quite messy, especially for someone who has not been here before," Mrs Arnott said.
"I want to send them a message that we are building a better city and that Napier is definitely a place you need to come back to." She said as the tourism season got nearer the campaign would be stepped up, as would a competition being staged through the Napier Life site where residents could win $1000 simply by inviting family and friends to visit Napier.
The first of five winners is expected to be drawn in the next week.