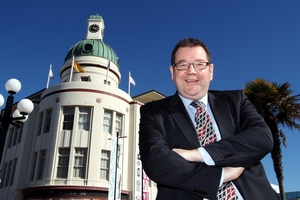 While Wellington Central MP and aspiring Labour Party leader Grant Robertson may be seen as a city boy, he has a link with the provinces - particularly Hawke's Bay.
"I lived here from the age of 18 months through to when I was 6 ... went to Mayfair Primary School," he said yesterday as he called back into the Bay as part of the 12 party leadership meetings being staged across the country.
Accordingly, he has embraced the region as it had picked up rugby's greatest prize last Sunday - the Ranfurly Shield ... although the Magpies took it from the team he supported during the years he lived in Dunedin.
"Here's the deal," Mr Robertson said with a smile. "You can keep it against Counties and then for the next two challenges and then I'll take it back with me to Wellington."
But rugby was the real winner and he was delighted the Bay had got it back after "44 long years - great stuff".
Like the Magpies team, the region had plenty of potential, Mr Robertson said.
"Good on you for what you've done but Hawke's Bay has problems with high unemployment and some poor quality housing," he said, adding that the number one question he and the other two contenders for the Labour leadership, David Cunliffe and Shane Jones, were getting from audiences was about jobs.
Small businesses had not had a fair deal from the present Government which had veered toward looking after the big businesses, he said.
"The key is productivity - improving the skill of the workforce. People come up with good ideas then we will back them."
There were also gaps in education for "getting kids a good start in life" and not enough devotion to apprenticeship and training schemes.
"I've seen kids who finish school but who have no direction."
Mr Robertson said reactions from the heartland audiences had been good, and there was no feeling that the country would be run by someone from "the big city".
And he was optimistic the voice of his party would be heard in what were National strongholds, like Hawke's Bay.
"In my view, something we got wrong in the 2011 election was that we told people what we were against, not what we were for."
He had also had little negative reaction to his own personal circumstances - of living in a gay relationship. "The vast majority of New Zealanders are fair and judge you on what you do. New Zealand is still a great country and if you are fair to people then they are fair to you."
Of his chances of taking the leadership he was "optimistic" but said if he did not get the nod he would support and work with whoever did.