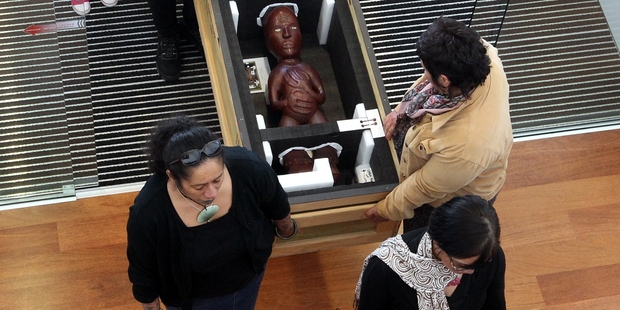 The grand opening of the MTG in Napier came a step closer yesterday with the arrival of taonga which will become part of a remarkable exhibition called Ukaipo-o tatou whakapapa.
It was a time for collections staff at MTG, Te Papa and Whanganui to meet and acknowledge the significance of the objects which were handed over - a pou tokomanawa wahine from Te Papa Tongarewa and a Te Arawhiti hei tiki from Whanganui.
As MTG curator taonga Maori Migoto Eria explained, the pou tokomanawa, in the shape of a woman, has links to Wairoa and Te Papa curators were happy to make it available as part of what she said would be a special exhibition.
The Te Arawhiti hei tiki also has Hawke's Bay links having originally come here from Whakatane by Kahungunu, the ancestor of Ngati Kahungunu and had been passed down through descendants through the years.
The taonga was blessed upon arrival at the MTG, before invited guests.
They were "welcomed" into the MTG by one of the most significant pieces of the local collection - a pou tokomanawa - the base interior support post of a house which had been carved to represent a named ancestor Te Kauri o te Rangi.
It is part of a collection of four pou tokomanawa which belonged to a house which had stood near Pakowhai, just outside Napier, and which was destroyed by fire in 1896.
They were rescued from the blaze.
MTG public projects team leader Eloise Wallace said the exhibition would feature about 120 items and would be a rich collection.
MTG director Douglas Lloyd-Jenkins said everything was on track for the official opening of the world's newest museum on September 21.
It was that "newness" which meant it was well up to international standards for attracting and staging exhibitions featuring loaned objects from overseas.
The extensively redesigned museum would have the "wow" factor and would be a smart and high profile showcase for art, objects and of the history of Hawke's Bay, Mr Lloyd-Jenkins said.
Yesterday's arrival of taonga was part of a highly organised, patient and careful transport process of objects with eight of the MTG's 35 staff specifically designated to the moving process. The Ukaipo-o tautu whakapapa exhibition will be open from September 21 and run for a year.
It will feature a stunning array of local taonga as well as the loaned items.
Ms Eria said the welcoming pou had been the first local taonga to be packed away when the old museum closed and was the first to be opened yesterday.
"So he was the end - and he is the start."