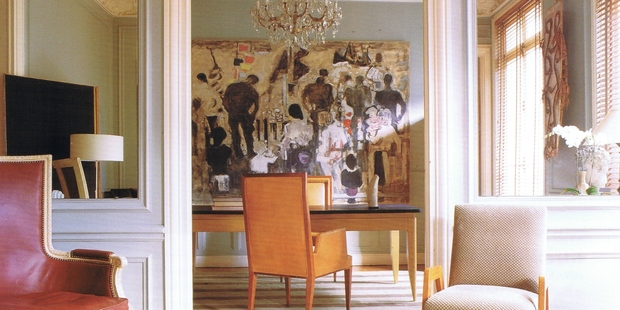 I think of myself as a bookaholic.
I love books with verse, little decorative ones that you can pick up and read, little piles scattered about the house. Terrible dust collectors.
Books, with good photography, from the Harley Davidson story to landscapes, gardening, art and design. Some of my books are picture books, others I use for research or teaching and some I've bought just because I liked the cover. One of my newest books is Classic Chic: The little black dress of interior design by Suzanne Trocme, with beautiful photography by Ken Hayden. I would like to share with you a little of how Suzanne describes classic chic:
"What is it about the little black dress' that makes it classic chic?
"Is it the blackness of the dress, or its simplicity, or the fact that it can be adapted for different occasions? Probably all of these. The blackness flatters the figure; an interior, by contrast, benefits from space-enhancing whites and paler neutrals.
In other respects a classic home is like the dress, and should be unfussy and adaptable for different occasions and functions.
"Little black dresses are not all the same, and the effect of a dress depends upon the spirit in which it is worn. There is an old adage that if a woman walks into a room and is complimented on her dress, then it is not a good dress; if she is told that she looks good, the dress is a success. A little black dress has the power to make the wearer's personality shine through, if chosen well, and is always smart, provided it fits properly and the form is appropriate to the wearer. In all instances, the dress is designed for the woman, not the other way around."
Is that how you feel when you put on your little black dress? Classic chic can also relate to our homes for those who prefer that style of decorating.
For the home interior to endure, it to must suit the occupants and allow for personalities to shine through, just like the little black dress.
So what does classic chic mean? Classic, of allowed excellence, cited as a model, often referred to, simple, harmonious, proportioned and so on. And chic? In the fashion, stylish ... The type of home that is timeless - it may be the style of the building, the harmonious interior colours, the simplicity of the artwork or furniture. Some may think of a classic interior as boring, but look again. Is it complete, does it welcome you and make you feel relaxed?
It is a clever mix of texture, pattern, colour and timeless furniture that suits the room or home that makes it work. It is not popular or trendy but enduring. It isn't for everyone, and perhaps many of you have no wish to live or venture into a classic chic home but for those who do it is a pleasure.
I have too many treasures or clutter, (it depends on how you look at it), around me and bright colours that I enjoy to live in a classic chic home. But I do enjoy the transformation in putting a more classic home together.
And for those interested in seeing some lovely classic American homes, have a look at the book, you'll have trouble putting it down.
I am available for speaking engagements for small groups or larger organisations and can be contacted below.
Terry Lobb is an interior/kitchen designer and personal colour and style consultant who takes a holistic approach to living with colour, texture and style - email: terry@terrylobb.com