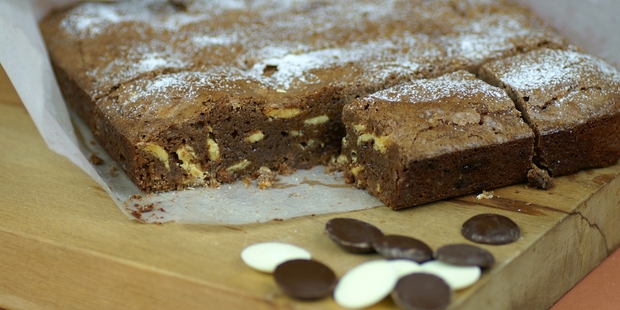 Because this brownie is loaded with decadent chocolate, it becomes quite firm on cooling - after the chocolate sets. Warm each square through for a few seconds in the microwave just before serving.
Ingredients:
125g butter, chopped
200g dark chocolate buttons
1/2 cup caster sugar
2 eggs, lightly beaten
1 & 1/4 cups plain flour
200g white chocolate buttons, coarsely chopped
Method:
Preheat oven to 180C. Lightly grease a 20cm square cake pan. Line base and sides with baking paper.
Combine butter and dark chocolate buttons in a large microwave-proof bowl. Cover and microwave on 70 per cent power for 2 & 1/2 to 3 minutes. Stir well. Cool.
Stir in caster sugar and eggs, then flour and white chocolate buttons.
Pour into prepared pan. Bake 30-35 minutes or until the top is just firm to touch. Cool in pan.
Cut into squares. Store in an airtight container or in freezer.
Warm slightly before serving and dust with icing sugar. - Makes 16 pieces.