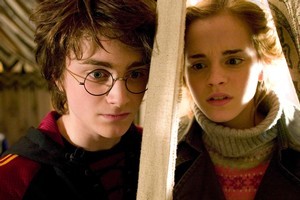 Herald rating: ****
... In which the teenage wizard and his school friends save the world again. As Episode 4 begins, our heroes are on a school trip to the Quidditch World Cup Finals. The games have barely begun when Voldemort's Death Eaters attack. They are beaten back and the students return to Hogwarts, joined by exchange students from France (Beauxbaton's maids) and "Central Europe" (Durmstrang's Aryan brigade).
It's time for the Triwizard Tournament between the schools, and the Goblet of Fire chooses the three finalists: Cedric Diggory from Hogwarts; Viktor Krum, the Durmstrang Quidditch master; and Beauxbatonette Fleur Delacour.
Then the Goblet spits out a fourth name: Harry Potter. This is against the rules, since you have to be 17 and Harry is only 14, but the Goblet must be obeyed. The question is, who entered Harry's name?
They must conquer fire-breathing dragons, rescue captives from a dark lagoon and enter a vast maze, inside which a suitably evil Voldemort (Ralph Fiennes) is lurking, ready to make his first appearance on screen.
As usual, there'll be a bizarre new teacher. This year it's Mad-Eye Moody (Brendan Gleeson), Professor of Defence Against the Dark Arts, named for a zooming, swivelling glass eye.
And that's only the wizard stuff. There's teenage stuff, too, centred around the Yule Ball. Harry works up the courage to ask Cho Chang (Katie Leung) while Ron asks Hermione, only to find she already has a most irritating date. Hagrid (Robbie Coltrane) will also find love, with Madame Maxime (Frances de la Tour), the suitably giant headmistress of Beauxbaton. And Miranda Richardson drops in as Rita Skeeter, gossip columnist of the Daily Prophet, a paper with talking photos.
With one of the strongest storylines in the series, walking a tightrope between whimsy and darkness - as Harry himself does - Goblet was directed by Mike Newell, the British director of Four Weddings, Donnie Brasco and Enchanted April. Newell turned down the opportunity to direct the first Potter movie and charges into the franchise with fun (a naked Harry surprised by a would-be boy-eating girl ghost, Moaning Myrtle, in the tub; Jarvis Cocker and the Weird Sisters amping up the young witches' and wizards' hormones at the Yule Ball) and relentless action.
Occasionally, though, that's not the best thing. Rushing from one fight, spell or monster to the next, the characters and story gives way to the special effects.
The cover of the 2-disc DVD makes it seem as if there is a trunk-load of extras but it doesn't take long to watch them. There's no commentary and no J.K. Rowling this time. Features are organised according to locations on a map, with games taking up a full half of the extras. The "additional scenes" are mostly extended takes, apart from Cocker's performance at the ball.
The short features show how film-makers pulled off the dragon, mermaid, moving maze, and grand ball scenes. In Too Deep shows Radcliffe splashing about in a giant fishbowl under a training regime that lasted six months, to produce the underwater sequence.
Meet The Champions introduces the franchise newcomers Robert Pattinson (Diggory), Stanislav Ianevski (Krum) and Clemence Poesy (Delacour). It's presented as a video diary following each actor through one day of shooting.
As Reflections On A Fourth Film details, each Potter movie takes a year to produce, and this feature uses Katie Leung to paint the broad picture of life on set.
Fiennes gets his special moment in He Who Must Not Be Named. The actor talks about getting inside the character's skin, a theme continued in Conversations With The Cast, where Radcliffe reveals that scenes with Voldemort / Fiennes terrified him. Radcliffe is joined by Grint and Watson in recalling some of their favourite moments from the film and fans also get to ask their questions.
Finally, there's a batch of four interactive games and DVD ROM features are thrown in for younger viewers. PC users can access a video game demo and Hogwarts timeline.
* DVD, Video rental today