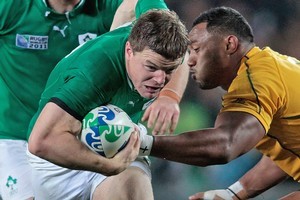 They have beaten Australia, sliced the Italians and played convincing rugby yet how many people truly believe Ireland can win this World Cup?
How many New Zealanders can see the Irish lifting the Webb Ellis Cup in a few weeks?
There is an in-built southern hemisphere superiority complex. The winner, so everyone domiciled south of the Equator believes, will come from the All Blacks' side of the draw. If it's not New Zealand then it's either going to be South Africa or Australia who triumphs. Let's be honest - that's what we all think. Secretly, or not so secretly, Kiwis, Australians and South Africans don't rate the Celts. They are wary but not fearful of them.
They don't believe in England as for all their power, set-piece efficiency and defensive clout, they lack the creativity and enterprise needed to be crowned champions.
France are a rabble with one random big shot in them, but while they might pull off the extraordinary once, they'll never manage it three times.
There is a statistical basis to this line of thinking. We have had just one northern hemisphere World Cup winner in six tournaments. The dominance of the southern hemisphere teams in the June and November windows has been almost total in the last decade. It is a big deal indeed whenever a northern hemisphere team has managed to win a game in these parts.
So it is understandable that Kiwis and their Sanzar chums don't really believe that anyone other than New Zealand, Australia or South Africa is going to win this World Cup.
Understandable but wrong. The Irish look like a team that can win this tournament.
Those who say they can't need to ask; what are the Irish lacking?
If their loose trio is not the best in the competition then they must be second best. Paul O'Connell looks like a man determined to exit the big stage having made a big impression. Their front-row...well they can handle themselves and showed the Wallabies up for being the frauds that they are.
The Irish midfield combination of Gordon D'Arcy and Brian O'Driscoll is only bettered by Ma'a Nonu and Conrad Smith while Tommy Bowe would probably walk into the All Black side at the moment.
To combine all these ingredients is a smart coach and an overwhelming determination to find redemption. Ireland were awful at the last World Cup. Much like the All Blacks they need to make amends - not so much for the people who follow them so passionately and loyally - but for themselves.
O'Driscoll, O'Connell and Ronan O'Gara are legendary names that need a definitive World Cup campaign to complete their careers. Going out in the quarter-finals doesn't give them that. Nor, really, does making the semi-finals. They know they can beat Wales because they do it often enough. They know they can beat France or England in the semi-final because they do that often enough, too. And they know, having beaten Australia in the pool rounds, that they can defeat the best in the southern hemisphere.
Ireland want redemption; they want a title and it's time for everyone to realise, they are good enough to win this tournament.