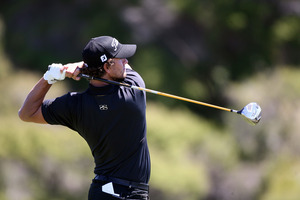 Title favourite Adam Scott says he will probably stick with his trusty broomstick for the Australian Open despite again trialling a shorter putter during practice.
Scott used a specially ordered 40-inch (102cm) putter on the front nine before reverting to his familiar, chest-anchored long putter for the rest of his pro-am round at The Lakes in Sydney yesterday.
The world No7 had little joy with either and admitted he was not 100 per cent certain which putter he would use in today's opening round, but was leaning towards the long wand.
"I don't know, I'll see. I'll probably putt with the long putter," Scott said.
"The other one I was messing around with was my first go and it's just not quite what I wanted to do.
"It's not quite set up for me, so I'll have another go with that another time if I feel I need to."
With golf's rule-makers last week announcing they were likely to outlaw putters anchored to the body, Scott is already planning for life after the broomstick, which he has wielded with such great effect while reviving his career during the past 20 months.
The Queenslander, though, insisted he was not being scared into a hasty change by the potential ban.
"I ordered that [shorter] putter a while back and I was just experimenting for my own amusement with a few things," said the Australian Masters champion.
"It's just slightly longer than a short putter. I think it's 40 inches."
It is unlikely any ban would be enforced before 2016 and, asked if he planned to ditch the broomstick in 2013, Scott said: "No, I don't think so.
"Unless I invent a better way to putt for myself, then I'll stick with the broomstick."
Scott clinched the Australian Masters last month with a broomstick putter that he has used for much of the past two years. But he has secured 16 of his 19 professional wins with a traditional putter.
Tom Watson, who played a practice round with Scott on Tuesday, said he believed golf officials were correct to ban long putters.
"And I say that with mixed emotions," said Watson. "This [a broomstick stroke] is not a stroke of golf."
Scott will play with England's Justin Rose in the featured group this morning, joined by China's Liang Wenchong.
Watson has been paired with defending champion Greg Chalmers and Australian Jake Higginbottom, who won the New Zealand Open two weeks ago as an amateur and turned pro the next week.
Guan Tianlang, the 14-year-old from China who will play in the US Masters at Augusta next year after winning the Asia-Pacific Amateur Championship last month, will play with Australians Robert Allenby and Marc Leishman in the first two rounds.
Australian Open
Where: The Lakes Golf Club, Sydney
When: Today-Sunday
Co-sanctioning tours: PGA Tour Australasia & OneAsia Tour
Prize money: $1.5 million
Field size: 156 players
Format: 72-hole stroke play
Course length: 6290 metres (out 3024m/in 3266m)
Cut: Top 60 plus ties
Trophy: Stonehaven Cup
Defending champion: Greg Chalmers (Aus)
Leading drawcards: Adam Scott, Justin Rose, Tom Watson, Geoff Ogilvy.
- AAP, AP