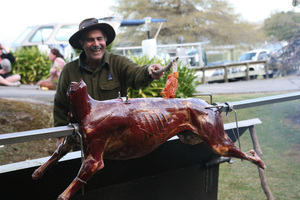 There are many signs in nature, from the red flowers blooming on pohutukawa trees, recognised as a harbinger of summer, to a rule of thumb for hunters which says: When the buttercups are flowering the deer will be out grazing.
Spring and summer hunting conjure up thoughts of beautiful clear mornings and sunny days to wander from clearing to clearing or enjoy the open tops. It is a time to head into the hills and the bush to bag some prime meat for the freezer.
Fresh spring growth will attract deer along bush edges, on grassy clearings and river flats and hillside slips where young grass is sprouting. Most deer are shot in the first hour and last hour of the day, so that is the time to be in position, scanning a clearing or bush edge.
But what do we do with the meat when we get it home? Venison is a healthy, lean meat with little fat and can dry out if overcooked. Simplest is to slice steaks thinly and fry in a hot pan. They should be cut across the grain, no more than about 1.5cm thick. Overcooking will toughen the meat, which is why they are not cut thickly like fillet steak. They are best cooked quickly.
The steaks are more like schnitzel and can be treated the same way with a coating of breadcrumbs. They should be cooked like a rare or medium-rare steak.
Venison can be marinated, and a simple marinade combines oil, soy sauce and garlic. Anything can be added for flavour, from chillis to tomato sauce.
Not everyone can hunt their own game but farmed venison is widely available, and like most farmed animals it has a milder flavour than the wild variety.
Sauces are popular, and it helps to understand what goes well with what meats. For example, fruit is a good accompaniment to game, from wild ducks to venison. The cooking juices can be combined with a little stock and fruit such as cherries or raspberries or jam and some sherry vinegar, reduced and thickened. Red wine lifts any sauce to a new level, and with roasts ginger ale is a wicked additive. A shoulder or rack or leg can be roasted in an oven bag, starting at a high heat (180C) to brown the skin and then reducing the heat to about 120C. A can of ginger ale poured into the oven bag will keep the joint moist and combine with the natural juices to create the base for a marvellous sauce when the meat is removed. The bag and roast should be turned at least once to keep it all moist. When cooked the liquid can be decanted from the oven bag simply by holding the bag over a pot and piercing one corner. It then just needs thickening in a pot with a little cornflour and milk. Large joints can be cut in half to make them more manageable, and like any roasts the meat is always better with the bone in.
A deer can be cut up like a lamb, turning the quarters into roasts or chops from the shoulder and steaks from the legs. The middle section can be left as racks for mini roasts, or cut into chops just like lamb. On the barbecue these chops are always popular, particularly when marinated.
A favourite among our fishing and hunting fraternity is to use the offcuts like neck and shanks in a pot. They don't roast well like lamb shanks because the natural fat and moisture is lacking, but when slow-cooked in a casserole or pot with vegetables these cuts are to die for. Any good pot takes two days to mature properly, and additives can include chopped bacon, tomato puree, balsamic vinegar and brown sugar. The fruit-ginger ale approach works wonders in a pot and fruit or jam can be used to complement stock, while ginger ale can replace stock.
If home-made stock is not available then store-bought varieties are fine and there is nothing wrong with beef cubes dissolved in hot water as a base.
Small deer like fallow can be cooked whole on a spit, but must be marinated regularly. A rag tied to the end of a stick makes a wonderful applicator - and keeps the cook at arms' length from the fire.