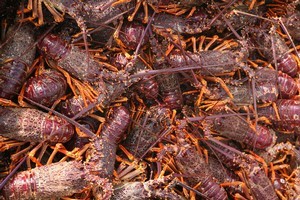 The All Blacks squad had crayfish for dinner in Auckland this week ahead of today's Rugby World Cup final. They came from the Chatham Islands via the air, courtesy of the people who live there.
Crayfish are a big part of life on the Chathams, as are paua, blue cod and hapuku or, as they are called there, groper.
It is 800km from Christchurch, a little more from Auckland, to reach these remote islands, where the clock runs 45 minutes ahead of the mainland and it's the first place to see the sun every day. But the way of life is like going back in time, and the 700 or so islanders are so independent that they refer to the main part of this country as New Zealand.
"We're coming over to New Zealand," they will say on the phone and some of them will be at Eden Park tonight.
The whole cray fishery in this country is a success story and management has ensured that stocks remain healthy in most areas.
The fish is technically a rock lobster and we have two common species - the red or spiny rock lobster and the green or packhorse rock lobster.
Crayfish should have claws but our lobsters do not. Our koura or freshwater crayfish have claws, just like the famous American Maine lobster has large claws.
But the name cray has stuck and the rugby players probably never realised they were actually eating lobsters. The biggest "reds" will reach 54cm in length and 8kg; the green "packies" can grow to 60cm and 15kg and, as the world's largest rock lobster, the mega models may be 30 years old and crusted with barnacles.
Like most life in the sea, a newborn crayfish faces a hazardous existence. The mother will have protected her half million or so eggs by carrying them under her curled-up tail for up to six months but, on hatching, the microscopic larvae drift around in the currents as part of the plankton for the first year.
It is a numbers game and plankton is hoovered up by everything from small fish to giant whales. The survivors will have travelled around at the mercy of ocean currents but will eventually find their way into the shallows somewhere around the coast or the offshore islands, where they settle on the seabed as transparent, tiny miniatures of their parents.
But they are never far from danger, as a variety of bottom-feeding fish love to dine on baby crayfish. Those still surviving learn to hide in cracks or under rocks and come out at night to feed. They can eat different foods, which is why they are so widespread and prolific. They will gather in any dead creatures and also eat shellfish, crabs, weeds and small fish.
Crayfish grow slowly. They will shed their protective hard shell from time to time and grow a new shell but, in the few days it takes the carapace to harden, they are vulnerable to fish with powerful jaws, such as rays and snapper. Octopus are a mortal enemy of the crayfish and many a cray pot is found to contain empty shells and an angry octopus that can't find its way out.
Crays will also "go on the march" for reasons which are unknown. They will walk across the seabed for up to 1000km in long lines of thousands of individuals - many a diver coming across this phenomenon has no trouble grabbing his bag of six crays.
It takes from five to 10 years for them to grow to the legal, takeable size, measured by the width across the tail.
But a cray's life remains hazardous throughout. The law of nature "eat or be eaten" applies equally under the sea. They are the subject of a valuable commercial industry and a strong recreational fishery, and the delicate, white flesh is highly sought after for wedding feasts in China, on a barbecue or in a mornay at the bach somewhere around our coast, or on a restaurant menu.
Some of the adults born 10 years ago near the Chatham Islands ended up in a cray pot this week and were flown to Auckland wrapped in cool seaweed and taken to the hotel downtown where the chefs were waiting to transform them into a dish for our top sportsmen.