Less is more when it comes to designing a front garden, writes Justin Newcombe.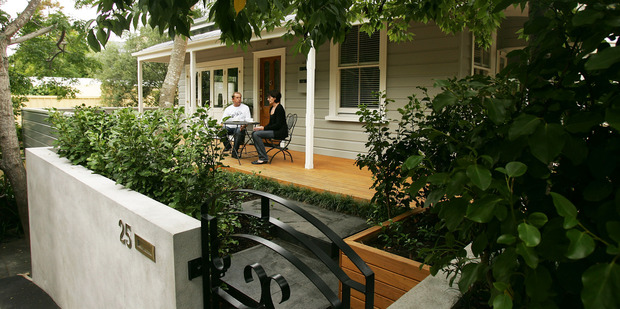 How much time do you spend at the front of your property? You probably just drive up the road, pull into your driveway, maybe pause to check the mail for the letter congratulating you on your incredibly good fortune because you are the winner of $10 million and to "qualify" you just need to invest in an Albanian Government-approved pyramid scheme. The rest is just bank statements, Inland Revenue letters and parking fines. I'm always surprised just how much of it the snails in my letterbox can eat.
Back to the smart front, the point is you don't spend very much time at all looking at the front of your house from the street and nor does anybody else. If someone did spend more than a minute or two looking at the front of your house, you'd probably take down their rego as a precaution.
Which leads me to the design of the front yard. How much garden can we take in during the 10 seconds or so of cursory glance that form first impressions, street appeal or what the Yanks call "kerb culture"? No matter what your tastes, life philosophy or budget, your front garden is what represents your property - even if the rest of it is an unholy mess.
In my case I'm guilty of being a winter garden sloth, so this year the unholy mess basically started at the front and, as far as I could tell when I bothered to look, went right to the back. There are some nice plants in the front of my place and the fence still looks okay. Although, to rub salt into the wound, just as I began writing this story my fence was tagged.
The thing that is missing is good continuity. It is all a bit directionless, as over the years I have just banged in a few plants here and there. Quite honestly, it looked like it. Remedying this unfortunate state of affairs has required me to take stock and apply my top five front yard or "kerb culture" tips to myself.
1. Less is more.
When creating street appeal, the person viewing your property doesn't have a lot of time to take in the information in front of them. It is important that they view the garden as complete, so having lots of different plants as eye candy or different materials thrown in is distracting. Your front garden will look ... wait for it ... distracted. On the other hand, a restricted plant choice with maybe one hard landscape material is easy to "get", giving the viewer a sense of coherence.
2. Clean lines are easy and quick to evaluate, again adding to the sense of coherence.
There are plenty of examples of seemingly random elements looking quite good from the roadfront. But look more closely and I'll bet you'll find the best examples of these have some sort of logic or linear sequence, which makes them stand out as "well designed".
3. Work with the surrounding landscape.
This is an excellent way to develop ideas and tie your property into its environment. Look for materials and plants that appeal and think about the geography of your property. If you're near the beach, look for plantings or materials that complement the natural plants you see around you.
4. Be realistic about maintenance.
No matter how good your ideas are, if your good idea has gone bad it looks like a bad idea. My main problem has always been weeds, so I've applied a huge amount of mulch over cardboard to suppress them. To keep in the mulch, I built a small retaining wall to hold back the mulch.
5. Be practical first and decorative second.
The best place to start is with the practical things. If you solve things like maintenance, access and privacy, you can dress up your section in any way you want. What you will end up with is a front garden that is that is functional as well as appealing.