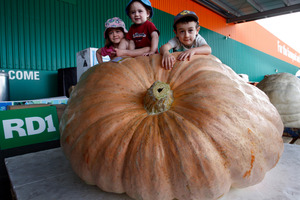 Race horse manure could be the secret to growing the biggest pumpkin in the world so far this year, according to a Northland grower.
Eve Barton reckons seeds from America could also have helped produce a supersize pumpkin which tips the scales at a whopping 721kg.
The Parua Bay resident and her two sons - Alan and Jason - took out national honours on the weekend easily winning a pumpkin competition organised by rural farm supplier RD1.
There were nine other heavyweight pumpkins on display in the Whangarei branch with the nearest rival weighing in at 239kg.
The winning pumpkin was the Atlantic Giant variety and it's thought to be the biggest pumpkin weighed in around the world so far this year - but the American growing season is yet to come.
Mrs Barton said her interest in growing huge pumpkins began two years ago when a gardening centre put up a family trip to the Gold Coast for the biggest specimen which weighed 364kg.
She won and so her interest in producing the big one began.
The latest specimen was planted at the end of October and took just 95 days to mature. During its growth, the pumpkin expanded by 15kg per day.
"You could see each day it getting bigger and bigger," Mrs Barton said.
The biggest fear when the pumpkins are developing is that the skin will split, so to prevent this a sheet was placed over them to keep the skin soft.
Mrs Barton was modest about her achievements saying: "It's not the same as climbing Mt Everest". But she was happy to accept the $200 RD1 voucher and hand it over to her husband.
It was a tricky operation to get the vegetable to town and she enlisted the help of a neighbour and his tractor to load the pumpkin onto the back of her ute.
Then, driving very carefully to Whangarei, the pumpkin was officially weighed on electronic scales so it could be recognised by world pumpkin officials.
The future of the pumpkin has already been decided. Some seeds will be saved in case Mrs Barton has the urge to grow more, and the rest is destined for the pig as the large ones don't have much flavour, Mrs Barton said.
For more articles from this region, go to Northern Advocate