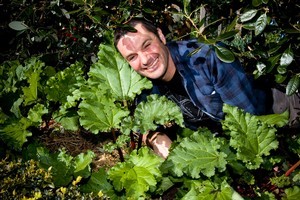 Justin Newcombe is a late-blooming fan of this versatile old fashioned garden staple.
Rhubarb typically elicits a "love it or hate it" response from people, depending on how much sugar you had with it as a child.
I am a recent rhubarb convert, discovering the culinary joys of stewed rhubarb and full fat yoghurt only after we were given some crowns a few years ago. Initially we half-heartedly planted the unassuming nodes in a dark corner down the back of the garden and predictably, they underperformed on an epic scale. It wasn't until a few years later when we had embraced the idea of free food a little more, that we resurrected the pitiful examples of a rhubarb plant and repositioned them in a more fruitful and prominent area of the garden.
We have been handsomely rewarded ever since.
Knowing nothing about rhubarb, I had no idea that we had landed ourselves with an evergreen variety which just keeps on going right through those mild winter months that we seem to have in the north.
There are dormant types as well that, as the name suggests, die back during the colder months and re-emerge in spring. Rhubarb is perennial so, barring a cataclysmic gardening disaster, it should re-sprout in the same spot every year once the weather warms up.
Rhubarb likes a sunny, well-drained aspect. It does not like wet feet. It is also a gross feeder, needing lots of organic matter to keep it producing fat stems.
We don't hold back on this front and our clumps seem to handle copious quantities of chicken manure, even in a fairly raw state. Spindly stalks often indicate that the clump needs dividing. Do this before the weather gets too warm. Carefully divide the clumps with a sharp spade (the separate crowns will be obvious on inspection) and replant in a suitable spot. Make sure that you don't plant the crown too deeply - it should sit a little proud of the soil level. Put some compost, sheep pellets or rotted animal manure in the hole prior to planting and lightly mulch around the crown if transplanting in the cooler months.
I have successfully struck crowns in pots in the past, just to get them started off. This also makes it easier to keep track of them especially if they have died back significantly or if, like me, your garden tends to be a bit of a jungle at times and you're scared of losing them in the chaos.
Newly transplanted crowns should be left for a season before harvesting the stalks, allowing the plant to become properly established.
As the weather warms up, rhubarb requires plenty of moisture and a thick layer of mulch to prevent it from drooping and drying out. Flower heads should be shown no mercy - cut these off with the secateurs. Flowering rhubarb often indicates a hungry plant, so reassess your plant's diet if this happens. If in doubt just remember it is almost impossible to overfeed a rhubarb.
When harvesting rhubarb be sure to twist the stalks gently from the base of the plant.
Do not cut them with a knife as this will make the plant susceptible to disease and rot.
Rhubarb is sour even at its ripest, so some kind of sweetening is imperative when preparing it. I've tried it with honey in the past but for me, nothing comes close to brown sugar and a squeeze of orange juice, topped off with that rather excellent thick yoghurt from Christchurch.