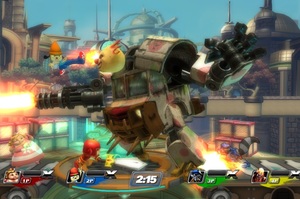 It's difficult to talk about this game and not mention Super Smash Bros.
Essentially, PlayStation All-Stars: Battle Royale is Sony's equivalent to Nintendo's franchise-blending beat 'em up platformer. The entire gameplay revolves around your choice of an iconic character from the PlayStation universe trying to beat the living daylights out of three others in a 2D side-scrolling environment. But Battle Royale does add a few extra features to alter the gameplay from its obvious inspiration.
For starters, the level environments are highly themed and interactive. You might be battling in a futuristic Metropolis as seen in Ratchet and Clank, or setting-to in the flaming underworld of Hades from God of War. At random moments in your battle, another Sony franchise will "invade" the level and you'll see the environment change, which will go so far as to actually affect the match in various ways. For example, the invading Patapon stage might see the little critters throwing spears at you from the distance, or in Hades a multi-headed hydra might suddenly lurch forward into the arena to fling players out of the way.
One particularly clever background stage is based around Buzz, where the map transforms into an impromptu quiz show. It even goes so far as to present players with a Buzz-like question and four coloured answer buttons for players to stand on before the timer runs out. The end result is a mad, frantic battle around the one correct answer platform to avoid any penalty. It's a welcome change in pace to the action and ensures that players are always aware of their surroundings.
While many matches end up as mad button mashing, Battle Royale has a decent combat engine buried beneath the eye-watering frenzy too. Three of the face buttons - triangle, square, and circle - deliver a variety of attacks ranging from light to heavy; while X is used for jump. The left analogue stick moves your player around the screen, while the right stick is used to throw your opponent in a particular direction. Overall, each character has around a dozen unique moves, each cleverly styled around their character's persona. Finally the triggers are used to activate a super attack, once powered up through normal combat.
Which brings us to the last aspect of the gameplay; your super meter. Normal attacks can't kill opponents; instead, successful attacks and combos build up your super gauge from level one, through to level three. Once full, you can activate your super attack at anytime and then hopefully inflict enough damage to kill an opponent or two. Saving up for level two or three will mean greater damage or range, but there's also a risk that you might save up your super attack and then fail to trigger it successfully.
The super attacks themselves are worth exploring for each character; many of them are appropriately amusing, such as Fat Princess charging around on a giant chicken pecking frantically at opponents, or Sweet Tooth, who will light up the screen with an assortment of missiles and machine-guns. Points can only be scored via super attacks, and the scoreless HUD means players won't know who is the victor until the carnage ends.
So far only a small number of characters have been announced. Prior to E3, the cast was known to include Kratos from God of War, Sweet Tooth from Twisted Metal, Fat Princess, Sly Cooper, Colonel Radec from Killzone, and Parappa the Rapper.
In Los Angeles, Sony announced two new additions to the cast: Nathan Drake from Uncharted, and Big Daddy from BioShock.
It's certainly an odd assortment of characters, but early hands-on play indicates the mad mash-up works well. The combat is smooth from one character to the next, yet varied enough to make you want to practice with each in an effort to try and master them all. More surprising is the fact that the characters are all well-balanced, with no obvious stand-out in terms of advantageous moves or attacks.
No doubt players will find their own personal favourite, but it's doubtful that anyone will take this game too seriously. It's a fun, action packed brawler that doubles as a great multiplayer experience for all ages. Sony also announced that the game will appear on the PS Vita, and that version can link up to PS3 for cross-platform multiplayer.
You can look forward to beating the crap out of all sorts when PlayStation All-Stars: Battle Royale arrives later this year.