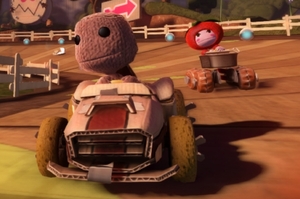 "What's a blue shell? I don't know what you're talking about," laughs Erich Waas, director for LittleBigPlanet Karting. Of all the video game genres in which rival properties are all fairly similar, it's uncannily so in the kart-racing genre. It's something that even Waas can't deny.
Made famous by Nintendo's Mario Kart series, the kart-racing formula has remained largely unchanged since the 16-bit days. Ever since, a raft of studios and existing properties have attempted to serve up their own versions, but they often feel like the same core engine with different characters and visuals.
But by bringing the LittleBigPlanet franchise into the mix with its 'Play, Create, Share' mantra, Waas contends that United Front Games can free itself from the genre's formulaic shackles.
"You're gonna have drifting and you're gonna have weapon fire, and you're gonna have probability tables on those weapons depending on what place you're in," he admits. "But with the rule set and the community and the sharing that goes on, there's gonna be all sorts of amazing creations."
LittleBigPlanet became a breakaway hit on the PlayStation 3 largely because of the level-creation and community sharing that it inspired. And it's that very lightning that United Front hopes to rebottle with its upcoming kart-racer.
Sure, the company has tried its hand at this before: United Front is the studio behind 2010's ModNation Racers, which allowed players to customise their racers and create their own tracks. But it never quite afforded the comprehensive control over every facet of gameplay that made LittleBigPlanet famous.
"You can really take it in a new direction," explains Waas. "You could even have, like, a kart RPG game within this, or you could have more like a train heist, where there's a train going from A to B and you're trying to get to the other side and shoot cars or decouple them, or there's some money bags that people are hanging out of the windows with. And I think there are karting experiences that are not traditional karting experiences. I don't think there's any end to the innovation."
Only the Sackboy and kart customisation options were available at this hands-on session with LittleBigPlanet Karting in Los Angeles. But the actual kart-racing gameplay is instantly familiar to genre veterans and dabblers alike. But it has a distinctive LittleBigPlanet flavour, peppered with environments, characters and other references to the blockbuster PlayStation platformers. Many of the weapons (or 'weaponators') are recognisable variants of established kart-racing implements of battle, but LittleBigPlanet Karting does have a few new tricks up its sleeve.
For instance, there's the grappling hook, taken straight from LittleBigPlanet 2. Players can use this to their advantage in a variety of ways in LittleBigPlanet Karting. Players can swing from grappling sponges littered around a race track.
"You can use it to traverse gaps, you can use it to swing over hazards, you can use it to avoid incoming weapons, you can use it to find hidden shortcuts, you can use it to get big airs so you can do spins and flip," says design director William Ho.
"It's really, really fun. It's opened up a whole new world of possibilities in our tracks that weren't possible before we had grappling hooks. Once you have grappling hooks in your racing game, you can't take it out, ever. You can't go back."
Also, it wouldn't be LittleBigPlanet without slap fighting, which can temporarily stun your opponents. In LBPK, this is a fundamental right - no weapon pick-up required.
And even if you're not entirely happy with the weapons set that ships with the game, you can always just create your own - just another of the multitude of features that can be tailored to the player's liking.
LittleBigPlanet Karting is scheduled for release on PlayStation 3 in 2012.
* Chris Leggett is a New Zealand gaming, music, and tech journalist based in the United States. Visit his website, leggetron.com, and follow him on Twitter: @leggetron