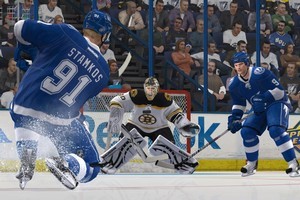 Summer may be just around the corner, but over the other side of the world another season of the National Hockey League is about to start. And with the new season comesNHL 12, EA Canada's fantastic homage to what may be the world's fastest and most brutal game.
Though there isn't much groundbreaking innovation going on - at best the game's had a lick of paint and a good polish - there is still plenty of exciting gameplay, as well as more big hits, big leagues, hockey legends, and goalie fights.
However, as soon as the game has loaded up, you get to experience one of NHL 12's new features. Last season's Winter Classic. Held between the Pittsburgh Penguins and the Washington Capitals, it's a spectacular introduction to the game.
A packed out Heinz Field, snow falling, Billy Idol singing Mony Mony, and Gary Thorne and Bill Clement calling the game just like they did on New Years. If you have played an NHL game recently, and are familiar with the controls, you can just carry on and enjoy the game. If not, you are prompted to drop out and go through the tutorial.
Like last year you have the choice to play with the '94 control set-up, where shooting and passing is handled with the face buttons, or you can stick with the standard set-up. Basically you use the left analog stick for the skater's feet and the right stick for puck control and shooting. Sounds simple, but like most worthwhile skills getting the hang of the basics is only the beginning.
The controls offer an enormous amount of depth and complexity. Whether you are winning a face-off, tying up your opponent on the boards, hip checking a big forward, or faking out a goalie for the game winning goal, there are always plenty of skills to master.
If the controls haven't changed, there are a few noticeable additions that make playing the game that much closer to the real thing. While laying on big hits seems to be a bit easier this year, now if you time it just right you can break a section of safety glass or knock an opposing player over the boards and onto the bench.
As you can imagine, skating away laughing while your opponent scrambles back over the boards is very satisfying. Just be sure to get it right, because if you miss it might be you going over the boards and landing at the feet of a sweaty, blood stained opposition defenceman.
Gameplay, in general, has had a bit of polish. Through not changing anything in a big way, there are nice touches that add to the experience. Now, you can bump a goalie out of their crease, and take the corresponding penalty. Nets also move if you run into them. Players stagger and recover from hits rather then just being knocked down, and if you take a big hit you can also loose your helmet and play out the rest of your shift like Craig McTavish, the last man allowed to play without a helmet after they were made compulsory.
If you get a taste for playing without a helmet, you can always have a go with NHL 12's Legends team. With an across the board rating of 100, the Legends team has a starting line of 'Mr Hockey' Gordie Howe, Wayne Gretzy, and Mario Lamieux.
After that you can fill in the gaps with the likes of Steve Yzerman, or current stars Sidney Crosby and Evgeni Malkin. NHL 12 offers an enormous amount of club and national teams from all over North America and Europe, so you can test the Legends team against all of today's best players.
The Legends also appear in the Be A Legend game mode. Here you start as Jeremy Roenick and have to unlock the other eight past legends. Be A Legend follows the Be A Pro game mode where you just control your player on the ice.
In Pro and Legend you set up your team mates, call for passes, and head to the bench when your shift is over. While on the bench you can sit back and watch the action, check out the advice and challenges given by your coach, or press a button and skip to your next shift.
The very deep Be A GM mode is back to let you build a franchise, with all the trades, scouting, and coaching needed to build a Stanley Cup-worthy side. You can also just play a single season, tournaments, playoffs, or shootouts.
Online you can once more do the trading card based Hockey Ultimate Team, set up and play in tournaments, earn or buy upgrades, play single players versus games, or 'six on six' team matches. Or, if you really love competition, and fancy yourself as something special, there's a link to Virgin Gaming's online leagues where you can play for real money.
Canada loves hockey. If developers EA Canada were stupid enough to mess up this game, the whole nation would drop their gloves and start throwing a few uppercuts. So, safe to sayNHL 12 is another quality sports sim.
Pre-game, and during matches, the graphics are excellent and the calls, grunts, and sounds of steel on ice add perfectly to the game's realism. Although, it now comes with some noticeable in-game advertising, begging the question as to just how far away we are from having the sponsor's logo on the box cover and full ads playing while the game's loading.
Like most years, NHL 12 is a mixture of gameplay tweaks, roster updates, and surface polish. Although this year isn't a major upgrade, the changes that have been made make NHL 12 the closest thing to playing professional hockey this side of sharpening up your skates, moving to Canada, and signing up with the Halifax Mooseheads.
Xbox 360/PlayStation3
Rating: 4/5
Classification PG