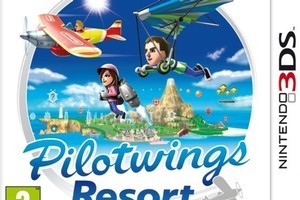 Like much of the Nintendo catalogue, the soft-and-simple Pilot Wings flying series has been around for years.
Its last outing was on the N64 title, and now it's made its way on to the Japanese gaming giant's new, no-glasses 3D version of the mega-selling DS portable.
It has to be said this is far from a serious simulator, with players going to an air sports resort and taking on challenges using a hang glider, rocket pack or small fixed-wing plane. And, as hinted at by the name, it is set around the same island the Wii game Sports Resort is - and follows the Wii-co-system approach of eschewing in-game characters for Mii avatars.
The controls are relatively simple - most set challenges require little more than hitting A to go, B to slow down, and using the "joystick" to navigate. In freeflight mode, the wider control scheme can be quite entertaining, adding barrel rolls and similar to the line-up.
While these challenges are reasonably basic, there is plenty of scope for gaming OCD sufferers in the quest for perfection. To progress from one level to the next, players' efforts must be rewarded with one to three gold stars or a "perfect score". I found myself repeating the same level over and over - Angry Birds style - looking for the red-highlighted gold stars denoting a faultless run.
As addictive as the challenges are - usually involving following a path through checkpoint rings and landing your chosen mode of transport - even trying for three-star glory won't keep this game in your console for long.
I've got mixed views on the usefulness of the 3D effect on gameplay - as levels got more difficult, there was a tendency to move the 3DS around more while navigating through hoops. This basically stops the 3D working properly - it's only visible when the device is right in front of you, move it, or your head, and it "flashes" the two different images used to create the effect.
The 3D can be turned off, or turned down, with the slider on the right side of the screen.
On easier levels when not swinging the 3DS around like a nutter, the environment was admittedly pretty spectacular.
Stars: 3/5
Platform: Nintendo 3DS
Classification: G
-TimeOut