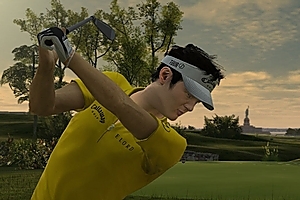 Tiger Woods is having a dog of a year, but Electronic Arts was one of the sponsors that stood up and backed the chick-chasing golfer because, let's be honest, who else on the tour would sell as many golf games?
The game is starting to bend under the weight of its own features, and PGA Tour 11 drives a few more into the mix.
One of the most welcome is the True Aim mode which ups the challenge considerably, but makes for a faster, more organic round. It does away with the numerous aiming aids and gives players a single point on the fairway to aim for.
Using normal game modes, there are a few handy helpers to cut a few shots from your round, including accuracy booster and a very helpful putt preview - but these cost your player "focus".
This new spec is excellent, squeezing extra performance out of your golfer, but able to be traded off for a bit of help.
The biggest drawback with PGA Tour 11 is the sheer size of the game and the confusion created by its multi-layered menu structure.
Those new to the game can easily be switched off by what is essentially way too much depth.
Verdict: Golf addicts will relish the many ways to play - and with 17 courses to choose from, and more to buy online - this is a long-termer. It is worth the upgrade from Tour 10 purely for its new gameplay modes.

Rating: 4/5
Format: Xbox 360, PS3, Wii, PC
Rated: G