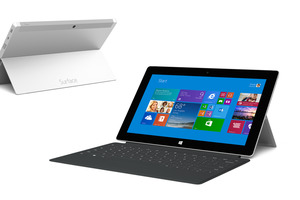 The original surface launched amidst a significant amount of fanfare. Microsoft was finally entering the hardware game and doing so with a device unlike anything else on the market.
A year or so later and Microsoft have taken a lot of the criticisms aimed at the original surface RT on-board to refine the Surface 2 so it is now marginally thinner and lighter with a sharper display plus a faster and more powerful Tegra 4 CPU.
Other design features also include a new two-step kick-stand and a silver finish. Although Microsoft has also dumped the "RT" branding in favour of the number "2" the new Surface runs a newer version of Windows RT.
Look & Feel
The Surface 2 looks a whole lot like the original surface. Its chassis is still made out of the same tough as guts magnesium-alloy and the Surface 2 is still sports its rectangular shape with rounded corners and edges making it a pretty good looking piece of gear.
What is somewhat less obvious is that the Surface 2 is slightly slimmer and lighter than its predecessor (the original surface RT was 27.5cm x 17.2cm x 9.4mm, weighing in at 680 grams, whereas the Surface 2 is 27.5cm x 17.2cm x 8.9mm at 676 grams). In use it proved to be portable and more often than not replacing my ageing Ultrabook's place in my laptop bag.
The other less than obvious feature that sets the Surface 2 apart is its redesigned kickstand which allows you to stand it up in its usual upright semi position as well as a more laid back 40 degrees slope. As with the original Surface, the kickstand is rock solid and doesn't feel flimsy even though it looks like it should snap clean off. The new kickstand also really comes into its own when using the surface on your lap. Now it sits two step fold out capabilities means it'll comfortably sit on your lap with the screen at a far more useable angle.
In terms of ports little has changed from the original. The power button is up top; along its side is a USB 3.0 port, there's also a video-out socket and a magnetic charging connector on its right as well as a volume rocker and headphone socket. On its underside are magnetic connectors for clipping in one of its optional keyboard covers.
For shutterbugs, the Surface 2 also has a 3.5-megapixel camera on its front, and a 5MP sensor on its rear. On the connectivity front, the Surface 2 supports all flavours of Wi-Fi and Bluetooth 4.0. Now that Telecom and Vodafone have 4G networks either planned or live, it'd have been nice to have seen 4G connectivity but that'll no doubt surface in NZ (pun intended) after it's launched in the US.
In Use
Perhaps one of the things that set the Surface 2 apart from other tablet hybrids is its keyboard cover. Annoyingly these are still sold separately which is an additional $184.99 to $199.99 and will most likely be a source of frustration for buyers.
This said the keyboard covers come in two flavours - the Touch Cover and Type Cover (whose keys are more laptop like and have more travel). Both new versions have been appended with the number 2. The Touch Cover 2 feels thinner than the original (2.75mm compared to 3.25mm) and nicer still, both the Touch and Type Cover keys are also backlit. While they won't do double duty as a tanning salon, it's a feature that proved useful on more than one occasion.
Another not so obvious redesign feature of the Touch Cover 2 is the inclusion of a bunch of sensors under the keys so you can use touch gestures. I found swiping two fingers across the top numeric keys to highlight and delete text a dead handy habit.
I also found that the Touch Cover was a lot more rigid on my lap compared to the original. Where the original felt a whole lot like typing on a wet tea towel with a plastic bag over it, I was able to knock out documents and emails with ease using the Touch Cover 2 on my lap. This said, keyboards are an incredibly subjective thing, and what appeals to me may not be your cup of warm brown beverage.
In redesigning the Surface, Microsoft also boosted its display to 1,920 x 1,080. Colours were accurate, bright and vivid. Contrast was also good with blacks being inky dark while whites were bright and crisp. Under direct sunlight, the screen also remained relatively usable (the dual step kick stand also greatly helped).
The Surface 2 runs Windows 8.1 RT which as you'd suspect looks just like its Intel cousin. In a move that'll greatly extend the usefulness of the Surface, Microsoft Office is also pre-installed. Windows RT also has a desktop mode but as you still can't install x86 apps you'll most probably be limited to the Windows App Store and the metro interface.
Even though there are more than a few gaps, the Windows Store has thankfully bulked out quite a bit on the RT front since its debut but not being able to run X86 apps is still pretty frustrating - here's hoping someone develops a surface X86 emulator for the RT, they'll make a killing.
Apps aside, the big news is that the Start button is back. While clicking it only brings you to the Start Screen, it'll hopefully calm down the howls of protest from old school windows users. One other feature I really liked was the ability to match start screen backgrounds with the desktop background which gives windows 8.1 more seamlessness between the desktop and the metro interfaces. Another other small improvement that also appealed - windows can now be placed side by side in a multitude of configurations, rather than the annoying 80/20 split arrangement under the original Windows 8 RT.
The charm menu's most under-appreciated feature, its search function has also been given a makeover. Doing a search reveals a whole lot of additional information including news, images and Wikipedia links, which will no doubt be dead handy for students.
Under the hood
The Surface 2 is powered by a quad-core Tegra 4 chip and available with a number of different storage options ranging up to 256GB. Not only did it take a mere 20-25 seconds to take me to the login screen from a cold boot, but apps also felt zippy and ran smoothly. Touch gestures (swiping for the charms menu and using gestures on the Touch Cover 2) was also buttery smooth. More importantly the Surface 2 also seemed to be pretty bomb-proof with no crashing apps or other bad behaviour.
Officially the Surface 2's battery is supposed to run for up to 10 hours and give up to 15 days of standby life. In use I ran a looping video demo for just a smidgeon over 12 hours with no power optimisation tweaks in use. The Surface 2 is available in 32GB, 64GB, 128GB and 256GB versions, all with otherwise identical specs.
Verdict
There's a fair few Windows 8 convertibles already in the market, the million dollar question is this:
Will consumers want to plunk down cash for a Windows RT version when Intel versions are already available?
This said, the Surface 2 was incredibly usable in practice and for the better part of two weeks it supplanted my PC for all the usual computing chores. If you're looking for a solid (and yet affordable) MS office workhorse that is light and portable with acres of battery life that has the usability of a PC and the portability of a tablet then Surface 2 is definitely worth checking out.
Tech Specs
RRP$:
Surface2 (32GB) $649
Surface2 (64GB) $799
Surface Pro2 (128GB) $1449
Surface Pro2 (256GB) $1879
Touch Cover 2 $184.99
Type Cover 2 $199.99
Dimensions: 27.5cm x 17.2cm x 8.9mm
Weight: 676 grams
Colour: Magnesium (Silver)
HD 10.6" LCD touchscreen (1080p, 1920x1080 pixels). 5-point multi-touch.
NVIDIA Tegra 4 Processor (1.7 GHz Quad Core) with 2GB RAM
Integrated apps: Office Home & Student 2013, Outlook 2013 RT, Internet Explorer 11, Photos, Music, Video, Skype, Calculator, Reading List, Reader, Scan, SkyDrive and Sound Recorder.
Battery life: Up to 10 hours from a single charge.
Connectivity 1x USB 3.0
Wi-Fi 802.11a/b/g/n
Bluetooth 4.0
HD video out port (adapters and cables sold separately).
microSDXC card slot (up to 64GB)
Cameras: 3.5MP (front), 5MP (rear)
Dual-position Kickstand (24 degrees), and (40 degrees).